Distraction in School: TIPS that Made a Difference
This post may contain affiliate links, view our disclosure policy for details.
I received the product below in order to facilitate a review. All opinions are my own.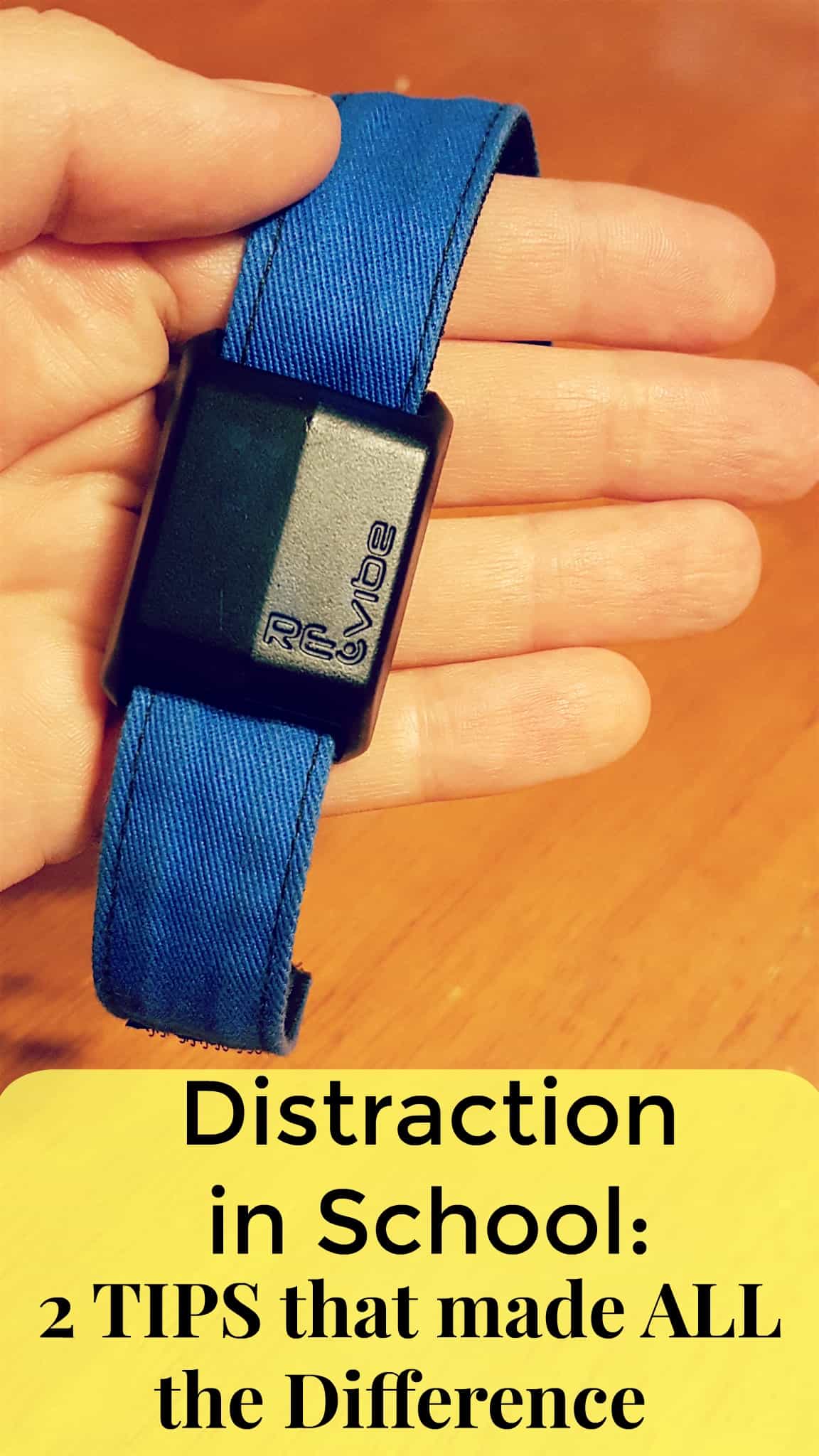 Some of you may know that my 9 year old has autism (more specifically highly gifted Asperger's) but what you don't see behind the scenes in my house is the hours and hours of crying and tantrums and distractions over simple homework. What you haven't heard is the complaints of his teacher echoing our concerns that he just sits in his desk during class and spends an hour lost in his own thoughts and not completing a single classwork worksheet – or even one question on his worksheet! All of that classwork gets sent home for homework and it was getting so bad we were staying up till 10pm every night including weekends trying to get homework done. NOT because he had an unreasonable amount of homework but because ONE math worksheet would take him 4 hours to complete. 4 HOURS! I finally broke down and sought professional help because I just didn't know what else to do. A quiet work area was not helping.
Last year he started seeing a counselor because he was getting SO stressed out and anxious over his homework and how long it took him to get done. If any of you know a child with Asperger's you know how hyper-focused and obsessive they can get about issues! Strangely enough after testing he did not meet the criteria for ADD because of his ability to hyper-focus on a task at hand during testing but even his counselor agreed he had a pretty extreme and debilitating problem. I was left in tears not knowing what to do and exhausted over the constant battles of homework and distractions. After a year of struggling with this on a daily basis we had 2 MASSIVE break throughs for my son.
Our first massive breakthrough came as we were waiting for our RE-Vibe band to arrive (more on that below!). His counselor suggested that our noise cancelling headphones might not be working like we'd hoped because it was SO quiet his thoughts were distracting him. He began using earbuds during class and at home with white noise playing and it was amazing. It truly revolutionized our situation. Now that we use RE-Vibe paired with this we have absolutely no more distraction problems in school. I tear up just thinking about the battle we went through to figure all this out for him.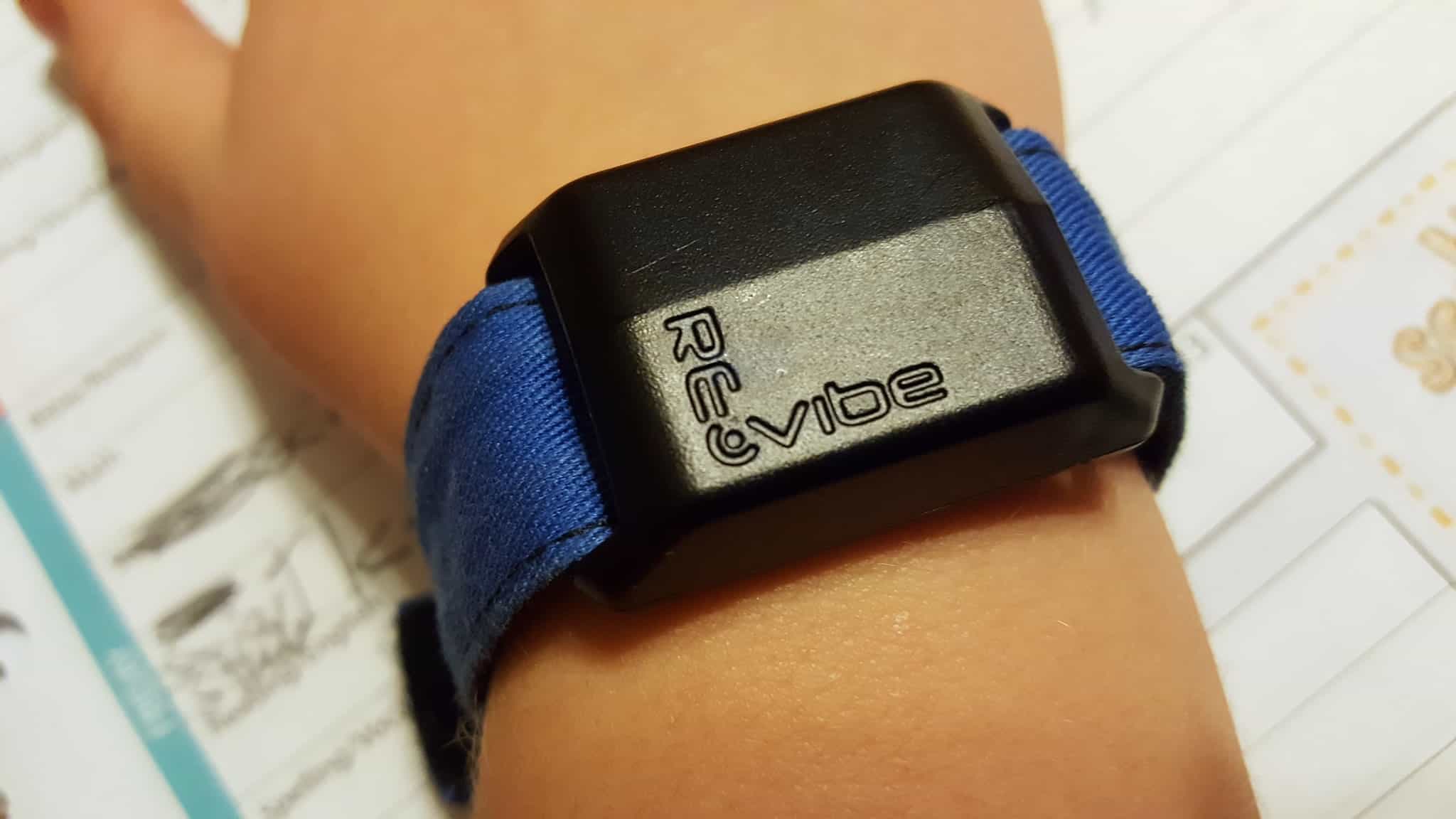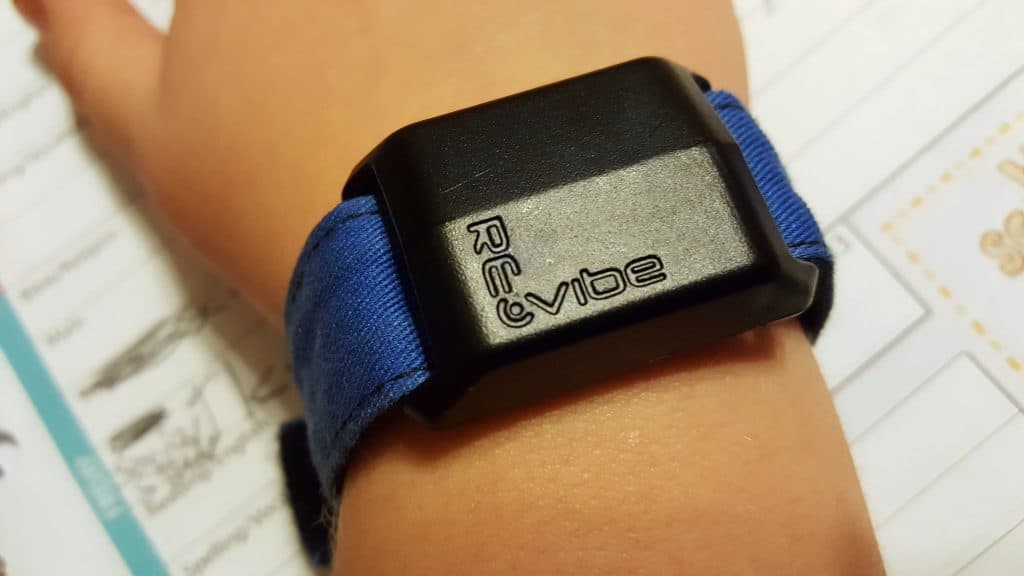 Our next big breakthrough for my son was his RE-Vibe Anti-Distraction wristband. It's made by FokusLabs Behavioral Solutions. I saw this product on the brand's sponsored Facebook post and it really intrigued me. Surely something so simple couldn't work…..but the more I read the comments I knew we had to try it. The success rate for distracted students was extremely high. It was created by a school pyschologist AND comes with a 90 day 100% money back guarantee. That means you can try it and send it back with no penalties if doesn't help your child. That really sold me on it so I wrote the company and requested to try it out in exchange for sharing our results with you guys.
How does RE-Vibe work?
Very simply put – it vibrates at a set time to remind the wearer to stay on task. There are no screens, no lights, no buttons for my son to push – what you see is what you get.  The nylon band has an organic cotton lining and the plastic piece is food grade BPA free. PLUS it's made in the USA. It stays charged for 7+ days although we charge ours every weekend. There are 4 different vibration modes that you can change by poking a small pointy tool into the back inside of the wristband.
*Mode 1 for the Mildly Distracted: Vibrates about every 10 minutes.
*Mode 2 for the Moderately Distracted: Vibrates about every 7 minutes.
*Mode 3 for the Significantly Distracted: Vibrates about every 5 minutes.
*Mode 4 – Homework Mode: Reminders about every 3 minutes & flashing lights/vibrations for breaks after 15 minutes of work.
When we received our band I instructed my son to ask himself if he was doing what he was supposed to be doing in class every time it vibrated. Even with his severe distractibility he's had great success with Mode 1. It's been enough of a reminder to keep him on task all day long.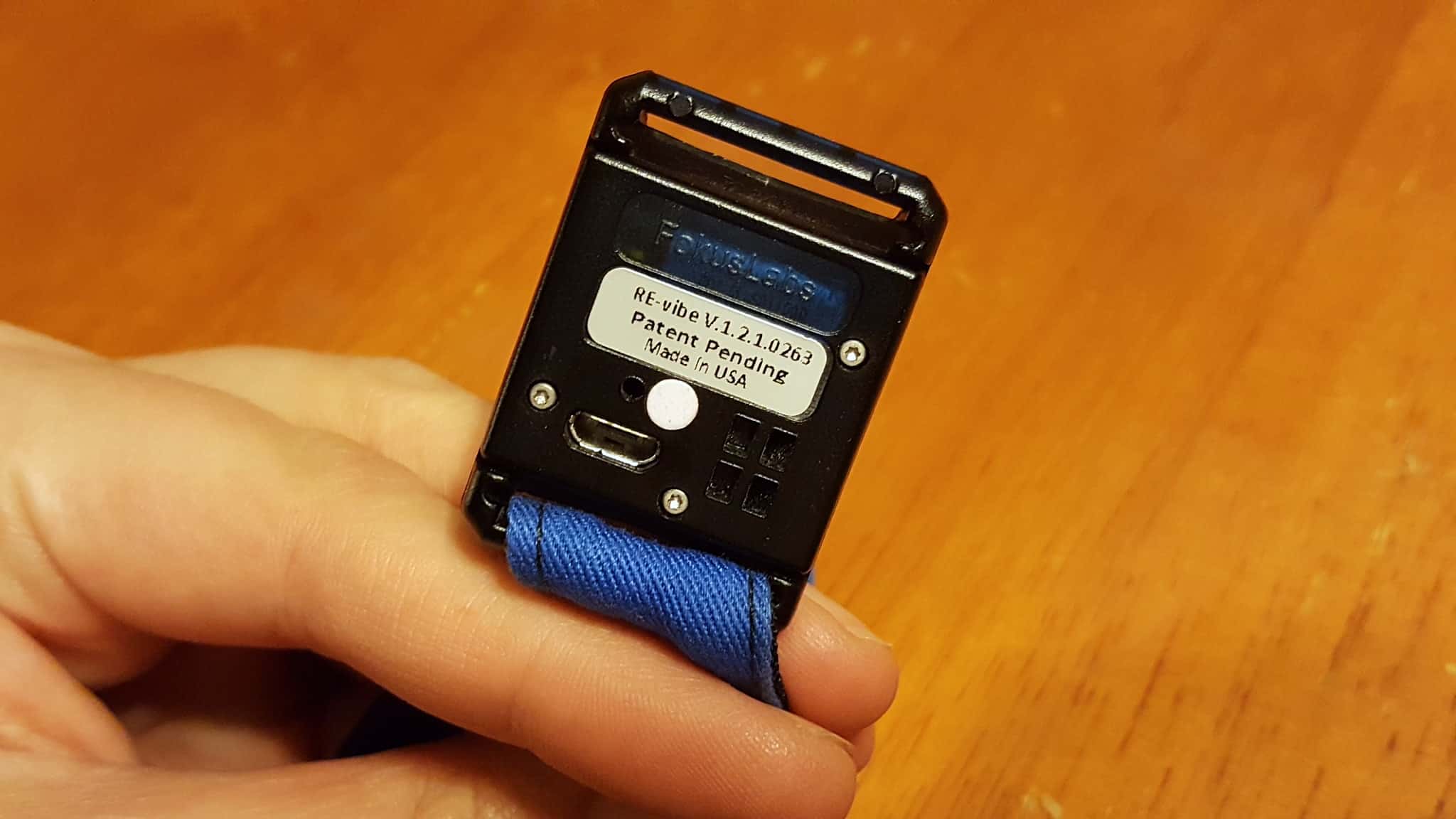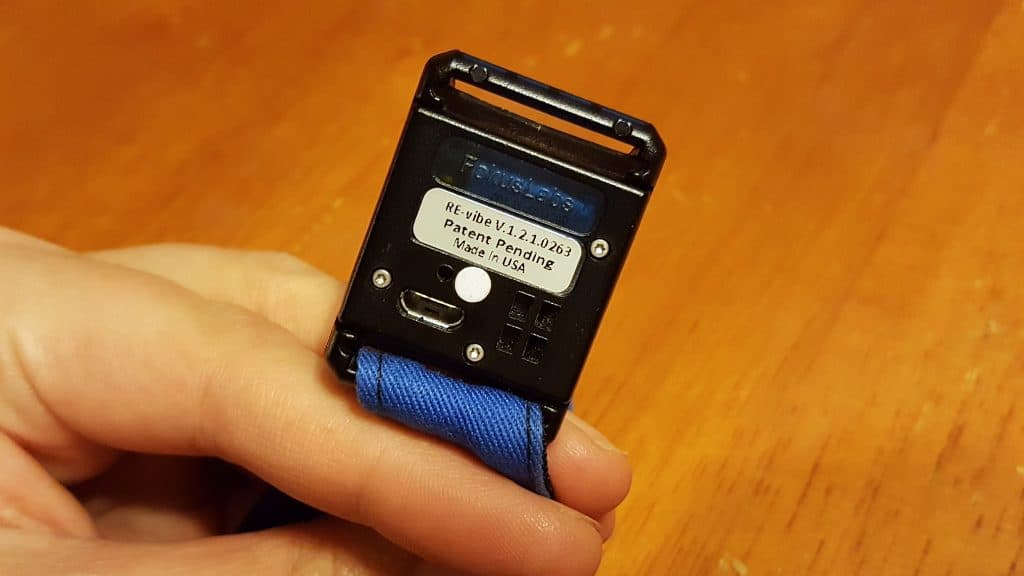 Here I took the nylon band off so you can see the underneath of the plastic vibration piece – you can see the port to charge the RE-Vibe wristband. These two methods have totally revolutionized our household. Almost 100% of the time when I accept a product review it's because a company has written me and asked me to look at their product but I contacted FokusLabs specifically after seeing this. We have shared it with our school principal, my son's teachers, his counselor and his OT therapist – every single one of them were extremely interested in it for their other students and clients. It's SO ridiculously simple but had profound results for my son.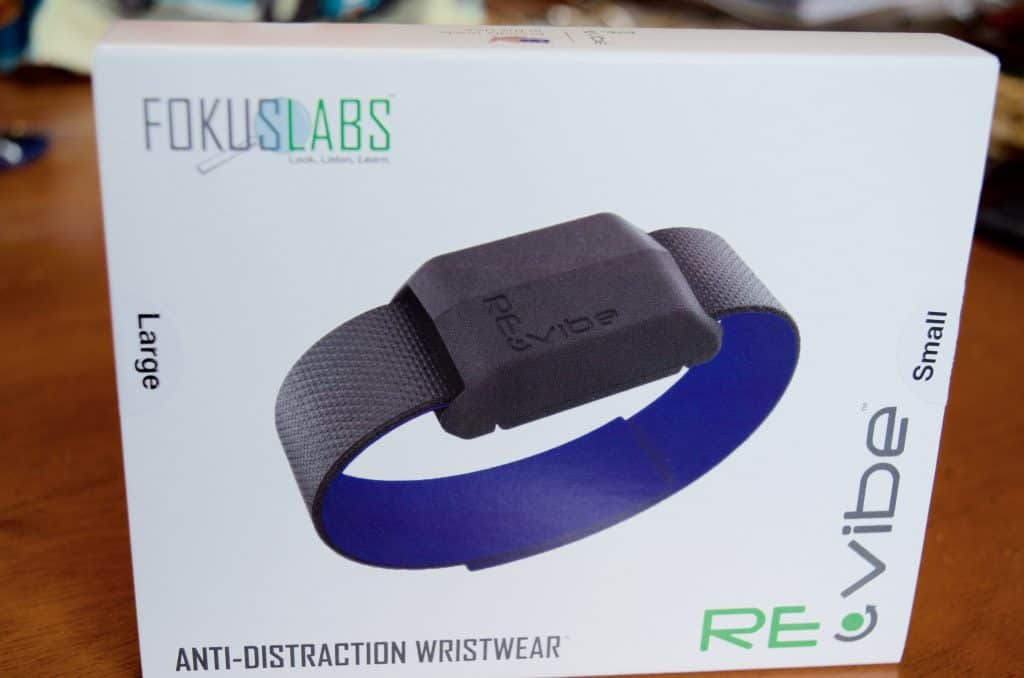 The wristband is very comfortable to wear and doesn't bother my son at all. Thankfully he's old enough that he leaves it on so we have no issues with him removing it during the day. I never ever ever have to remind him to wear it or charge it. He has completely taken control of caring for his device and really panicked the one time he left in his dad's office. I was pretty surprised how intensely responsible he was for using and charging it. The RE-Vibe is also available for purchase here on Amazon. I know several teachers who now have these on their grant list and rotate them with specific students in their classroom. Plus you get a discount in bulk -buy 5 or more and get 20% OFF on Amazon! 
The price runs just under $100 but if you were as desperate as I was I'd have done anything at all to help fix our distraction issue. It was SO severe and really had taken over my son's life both at school and at home. I've read some people complain about the price but I absolutely LOVE that FokusLabs offers a 90 day full refund if it doesn't work for you – it shows me that they stand behind their product. And rightly so – for our family it has been amazing. My other son has some processing and dyslexia issues and you better believe if we begin to have problems with distraction in class I will absolutely purchase another one of these wristbands. In fact my husband wants to buy several for some of the students at school. I HIGHLY recommend trying the RE-Vibe wristband out – with that 90 day guarantee you really have nothing to lose.