CAT Tough Tracks & Preschool EZ Machines RC Review
This post may contain affiliate links, view our disclosure policy for details.
I am SO SUPER excited that it's almost summer! Every day when it gets quiet in my house I realize that my boys have escaped outdoors and I frequently find them outside digging for worms, or lately, using their CAT Tough Tracks trucks to help them dig for worms! Having 2 boys I know ALL about dirt outside and I know ALL about the need for durable toys. Especially trucks….because of course they are made for crashing.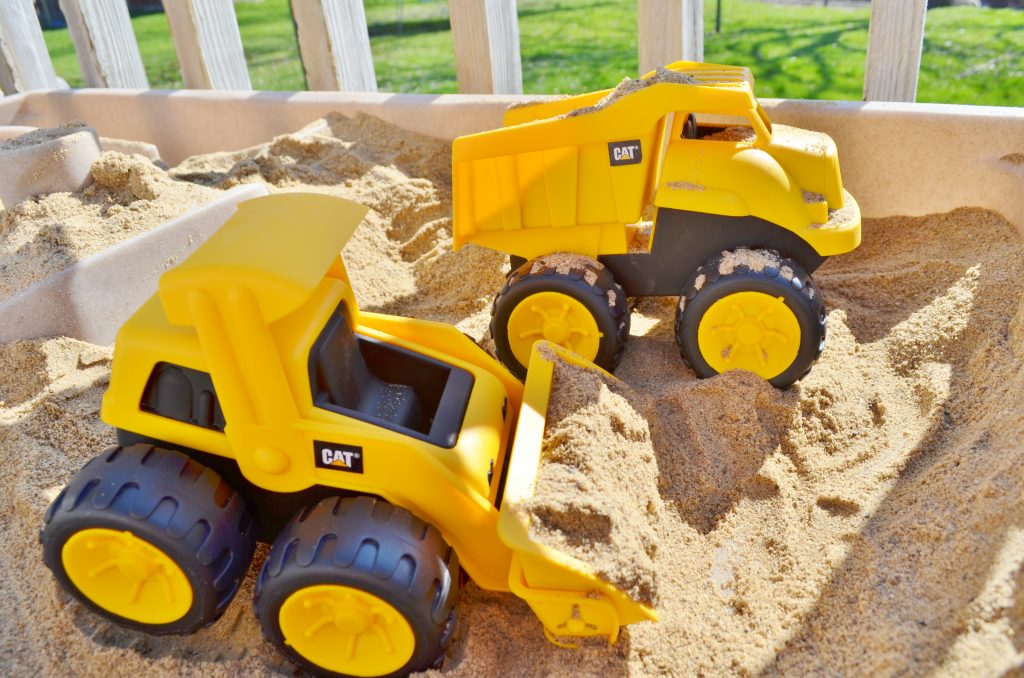 PLUS the CAT 8″ Tough Tracks are the perfect size to fit in our sand box to play too! They come in 2 or 3 packs with trucks like a dump truck, excavator, or wheel loader.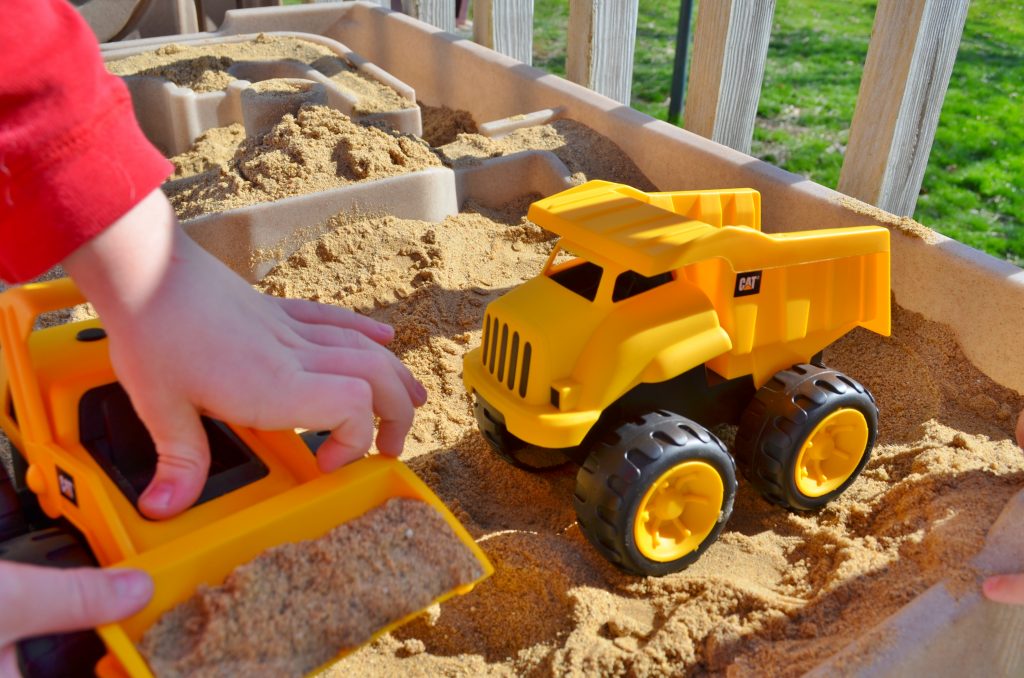 I have always loved CAT toys because of their durability and these Tough Tracks are no different. I would buy them in a heartbeat for any little boys' gift that I needed. The dumpster really dumps dirt out the back and the excavator also has moving and working parts as you can see above.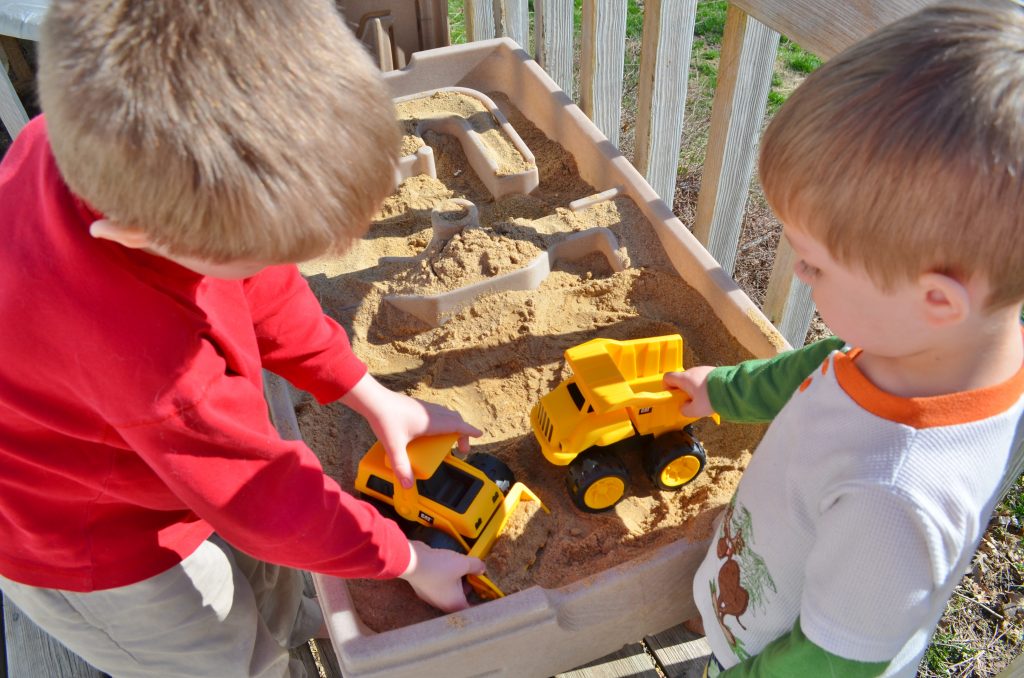 These trucks are geared for ages 2 & up so they are really perfect for just about any kid and there are no batteries needed.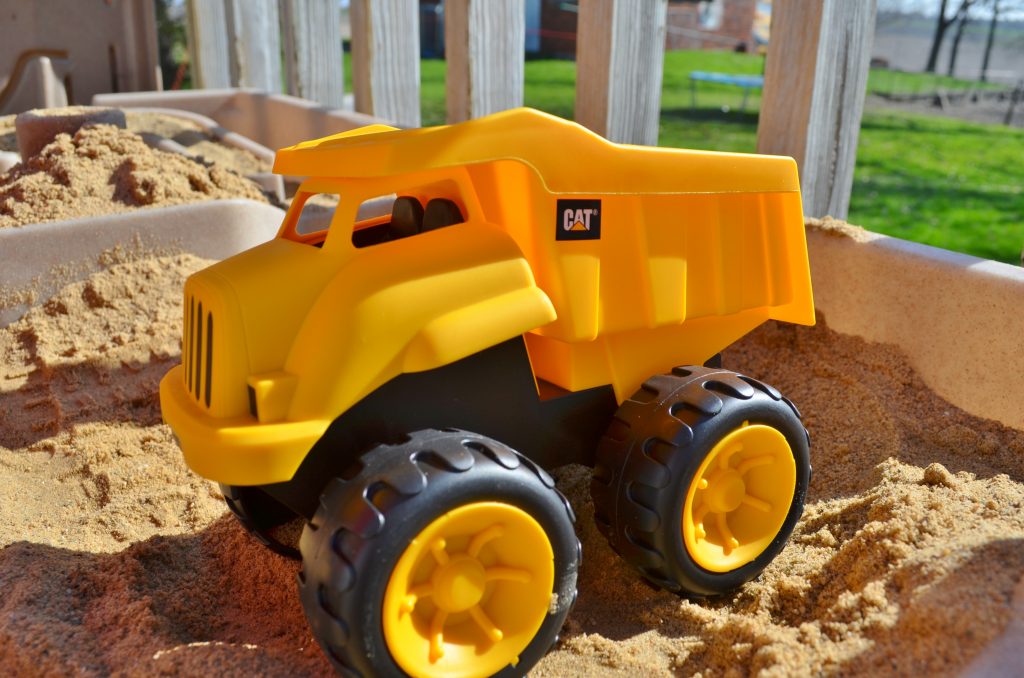 They are large enough for little hands to easily grab and manipulate but not too large to store. These make great gifts for a family with several kids, a neat idea to buy as a pack and separate for individual gifts, or a fun idea to donate to your local preschool.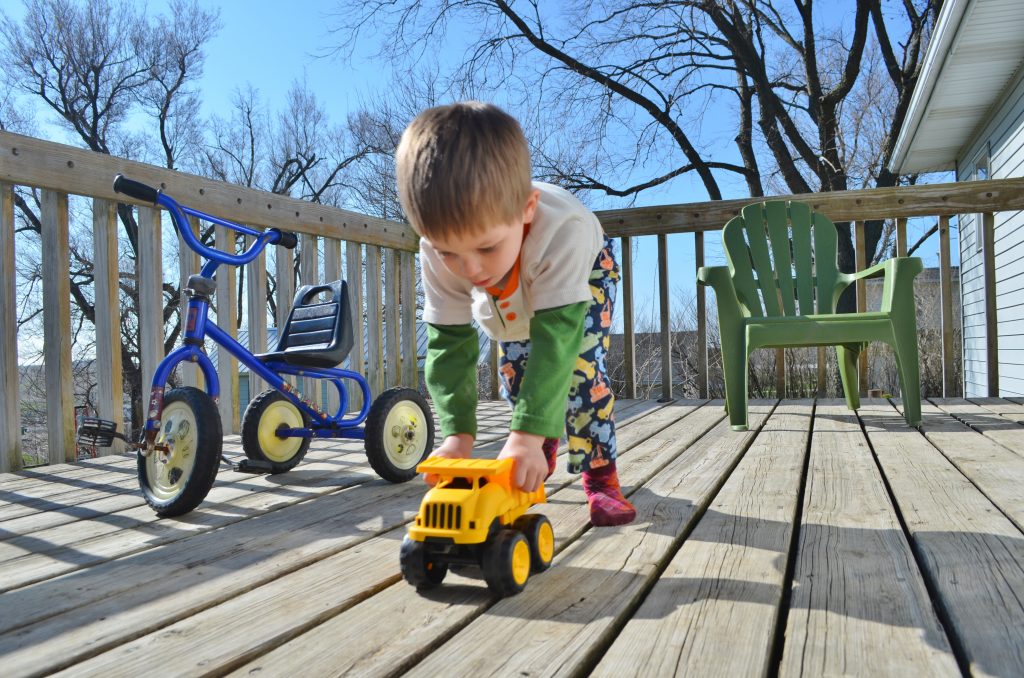 My 6 year old uses these CAT trucks mostly to dig in the sand and in the dirt. My almost 4 year old likes to do that too but he mostly likes to VROOM them around on the ground pretending to pick up  loads of imaginary stuff to take to the next place! These kind of trucks are my "go-to" toys for boys especially. I've never met a little boy that didn't light up when they saw a big truck like this. I definitely recommend the CAT Tough Tracks for it's durability and versatility in both creativity and for all ages.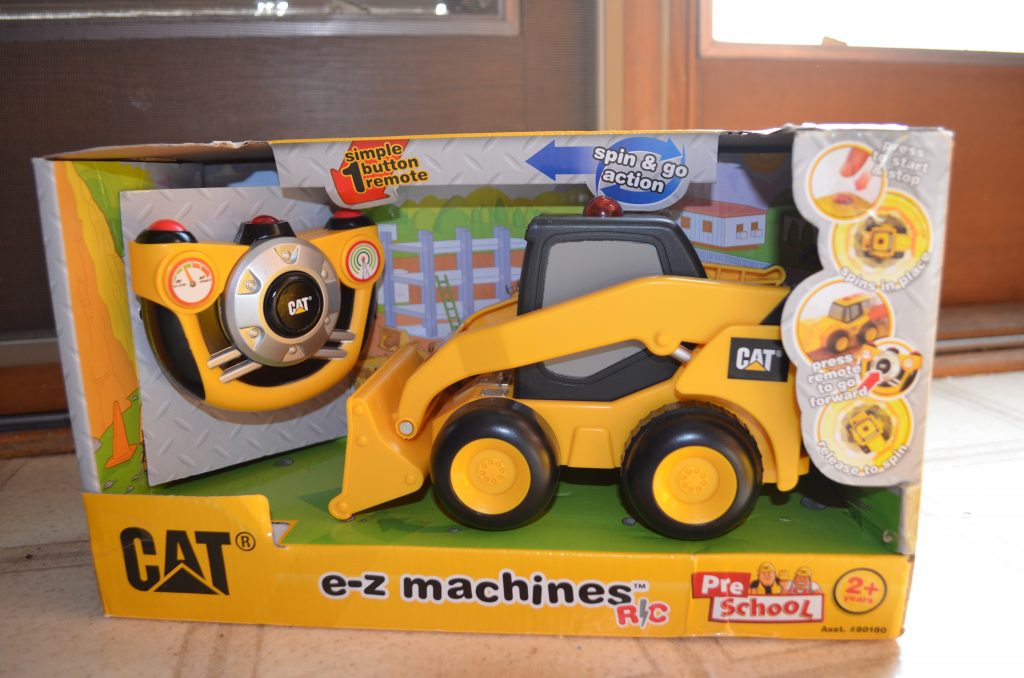 We also received the CAT Preschool E-Z Machines toy which I was really eager to try out since it is geared for ages 2+. I don't know a kid that doesn't LOVE RC toys but usually they are geared for a little bit older so I was very interested to try out the CAT Preschool RC toy. It definitely includes the durability we've experience with all of the CAT toys and is very simple for even the youngest of kiddos to use. Be forewarned though that it's pretty loud! And it uses 5 batteries (3 AAA and 2 AA) so make sure you have them on hand when you buy it!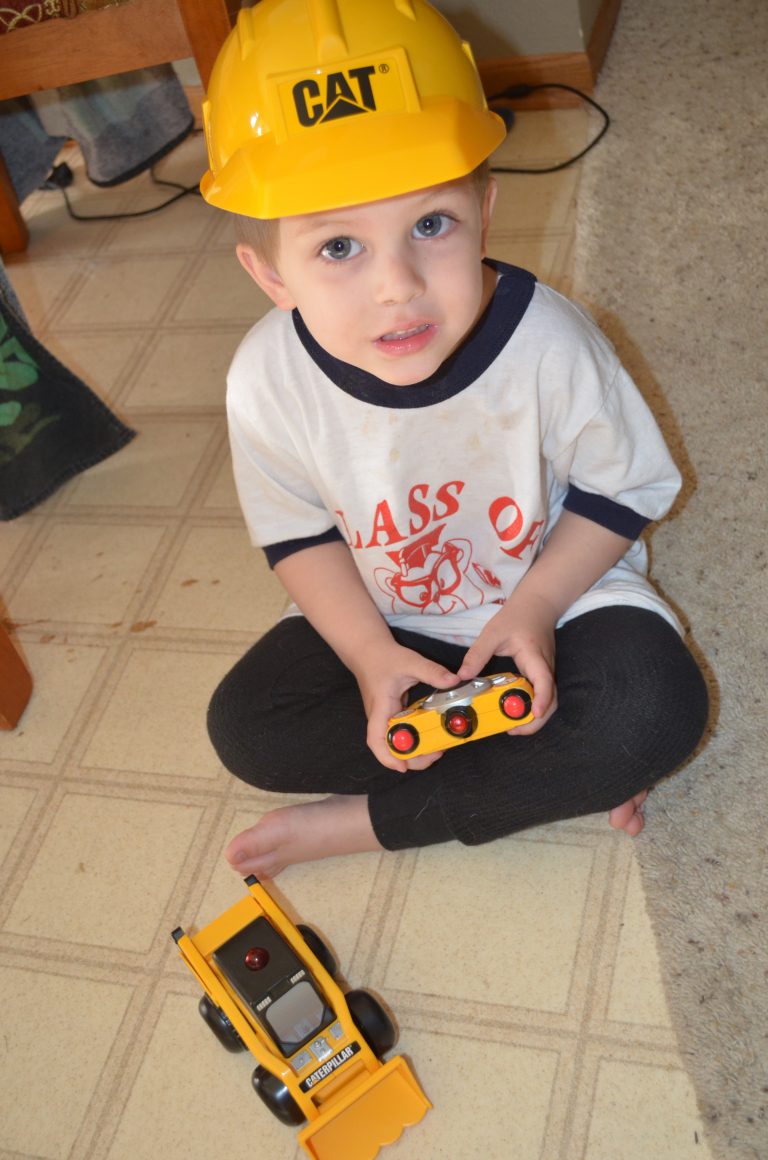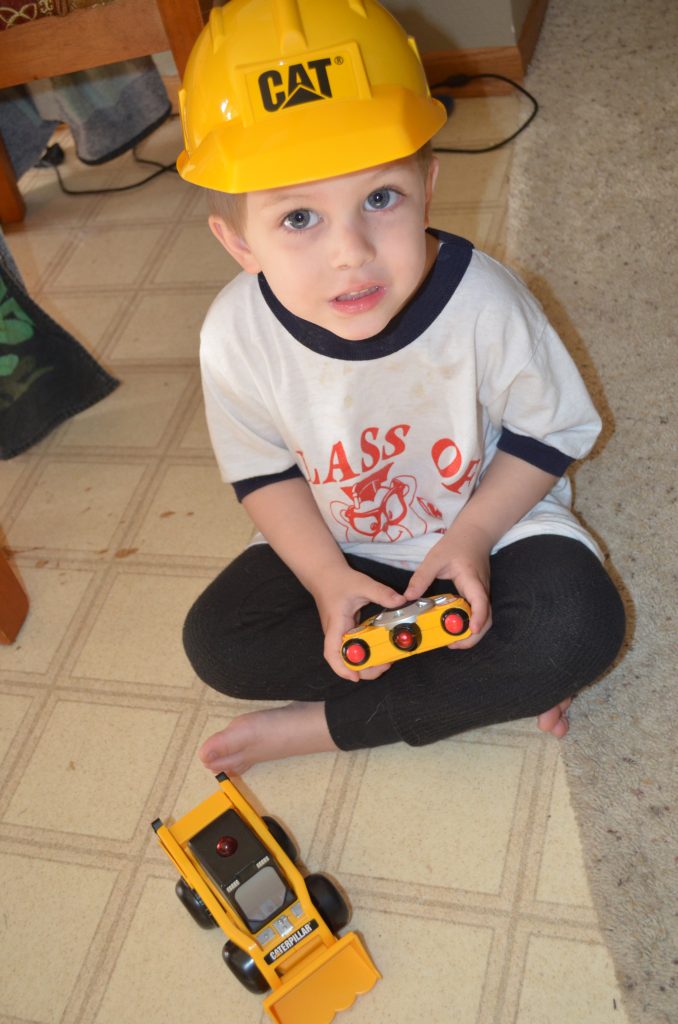 The CAT machine only runs if you press the red button on the top of the bulldozer. Which is nice because it helps to save the battery when your kids just chuck the remote in the toy box! Once you press the button on the top of the bulldozer it spins like crazy until your child presses the one workable button on the remote. Once your child presses the button on the remote control then the CAT toy will move forward. If they release the button again it begins to spin again until you press the button on the control. Since it uses only one button that's very easy for all kids to press and control. Plus the kids can watch the toy spin (loudly!) if they don't feel like using the remote. This is super cute and I definitely think that this is perfect for 2-3 years old. Any older and your kids will probably be wanting a more extensive RC experience like the RC Big Builder.
Disclosure: I was provided the above products in order to use and form my own opinions. All opinions are my own.