Back to School Clothes Shopping for Cooler Weather
This post may contain affiliate links, view our disclosure policy for details.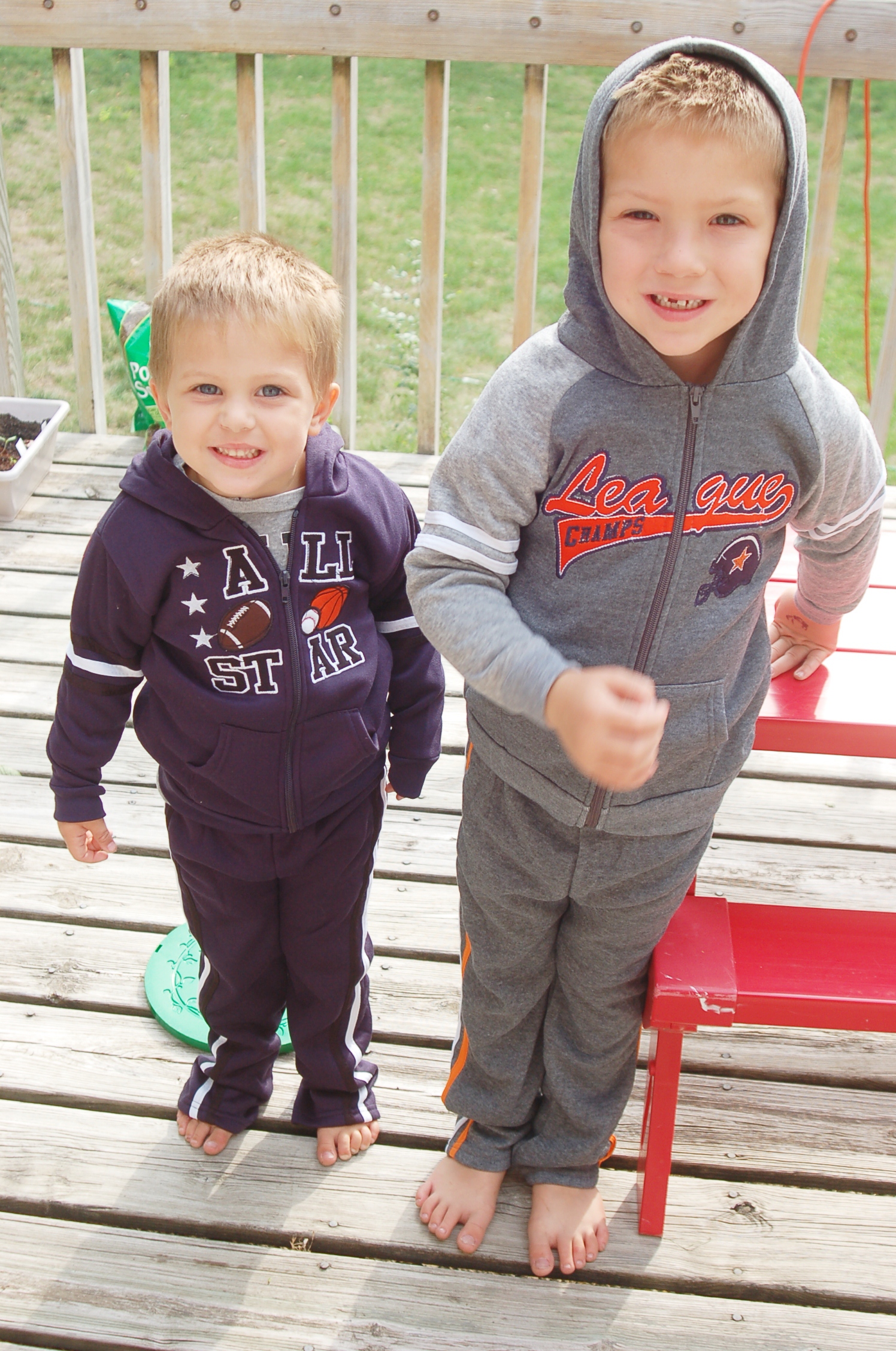 AH How adorable are they? I just LOVE this picture of my boys and had to brag on them a little bit! 🙂 As you know my oldest son started kindergarten (my little guy is in preschool) and since we just moved up here in Iowa from Florida I KNEW that on my list to buy this year was warmer school clothes – for obvious reasons! 🙂 The first day it got down in the 70's with a nice wind my boys were already asking for their jackets!! SO I turned to CookiesKids.com which is one of my favorite places for stylish and affordable clothes online! They always have such a great collection! Thankfully my son's school does not require uniforms so he can wear regular "street clothes" to school which makes my shopping a lot more fun!
Since this is his first year in school I really wanted to buy him some nice clothes for school – not just old play clothes, but I also wanted him to have something comfortable and warm to wear on the chilly days. Above you can see that I bought the boys similar sports outfits – they were incredibly reasonable on the price! EACH outfit consisting of 3 pieces cost just $9.99-$10.99! For THREE pieces of clothing I definitely consider that a great deal!! The pants were SUPER soft on the inside – my son thought they were pajamas!! *NOTE – these outfits ran VERY small!! I bought each of my boys clothes all one size bigger than they wear and these barely fit so make sure to order at least 2 sizes up!!! I am hoping that my oldest can at least get some wear out of his outfit!
In fact I ended up purchasing a total of 15 pieces of clothes (4 3-piece sets, 2 pair of shirts and a pair of sweatpants) PLUS a 6 pack of socks for just $62.93 after I used promo code FALLTIME and got 10% OFF!  Shipping was a flat $5 (included in my total) so I was VERY happy with the amount of clothes that I purchased for that price! Below you can see everything I bought.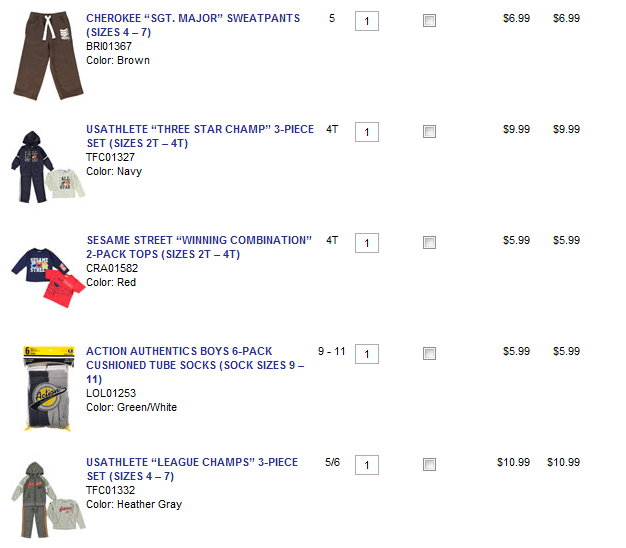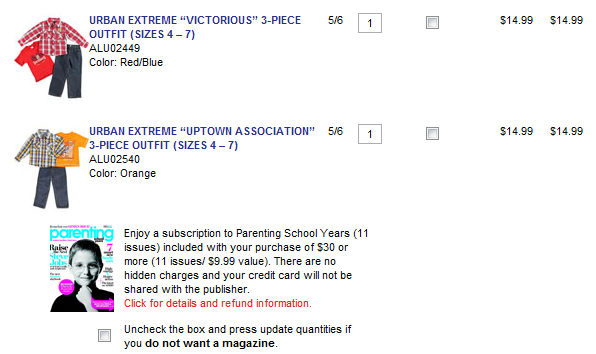 PLUS I qualified for a FREE subscription to Parenting School Years OR refund (I took the refund) which was $9.99 back! So I sent off for my refund which REALLY makes my purchase an awesome deal!! After my rebate my grand total is $52.94 for 15 pieces of clothing and 6 pairs of socks – aside from the socks that breaks down to $3.52 for each piece! I can't even get that price in stores for my kids clothes!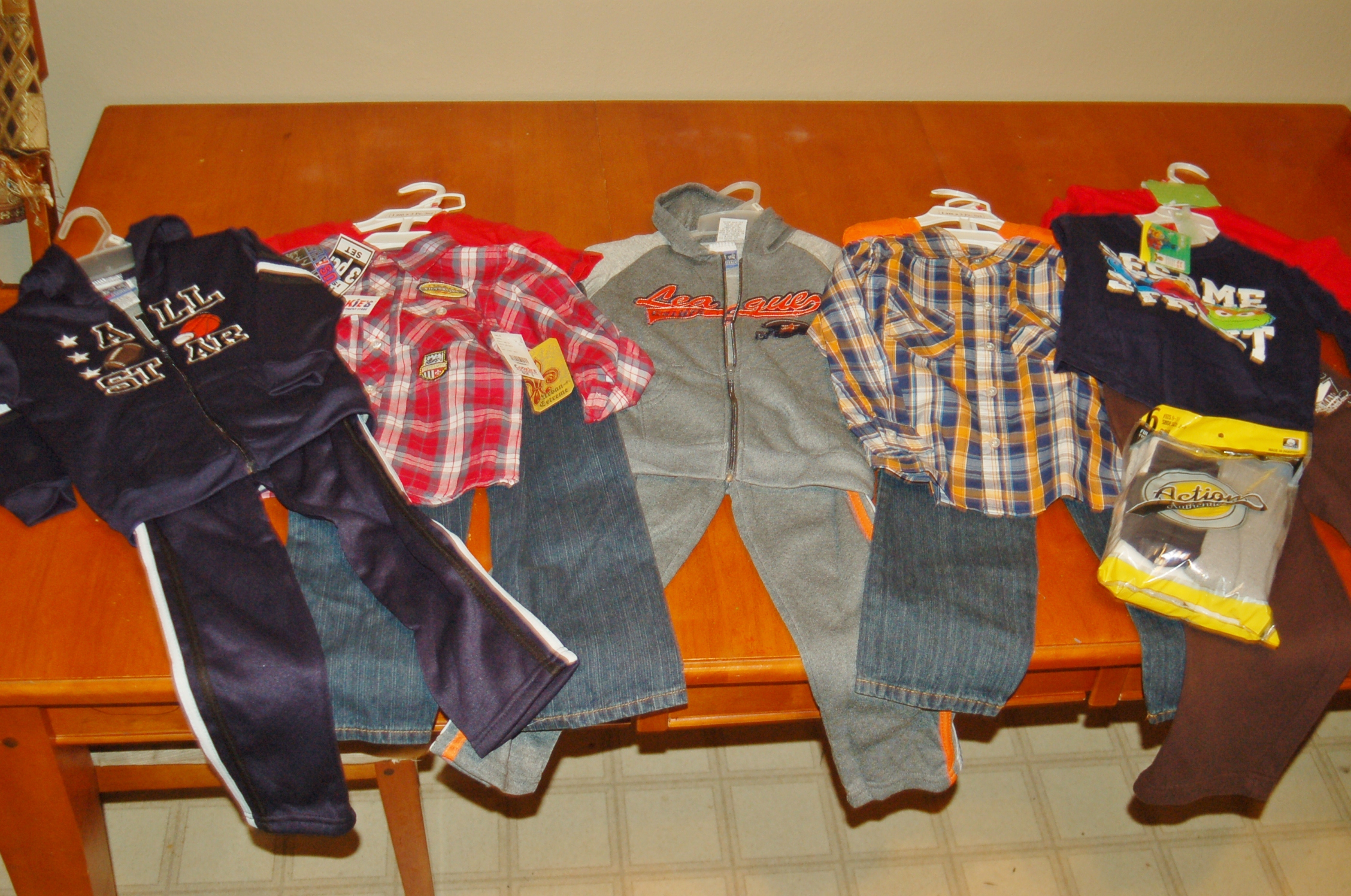 Shipping was very quick too – by the next week I had everything at my door! Which was perfect because it was just as school was starting!
I LOVED these Urban Extreme outfits!! Each came with 3 pieces – a t-shirt, a long-sleeved shirt and a pair of jeans. Again, these ran way too small so buy at least 2 sizes up!! The t-shirts barely fit my son so they will be passed down to my youngest right away but the long-sleeved shirts fit OK for now. The pants were a perfect size though. Coordinating outfits just look so sharp!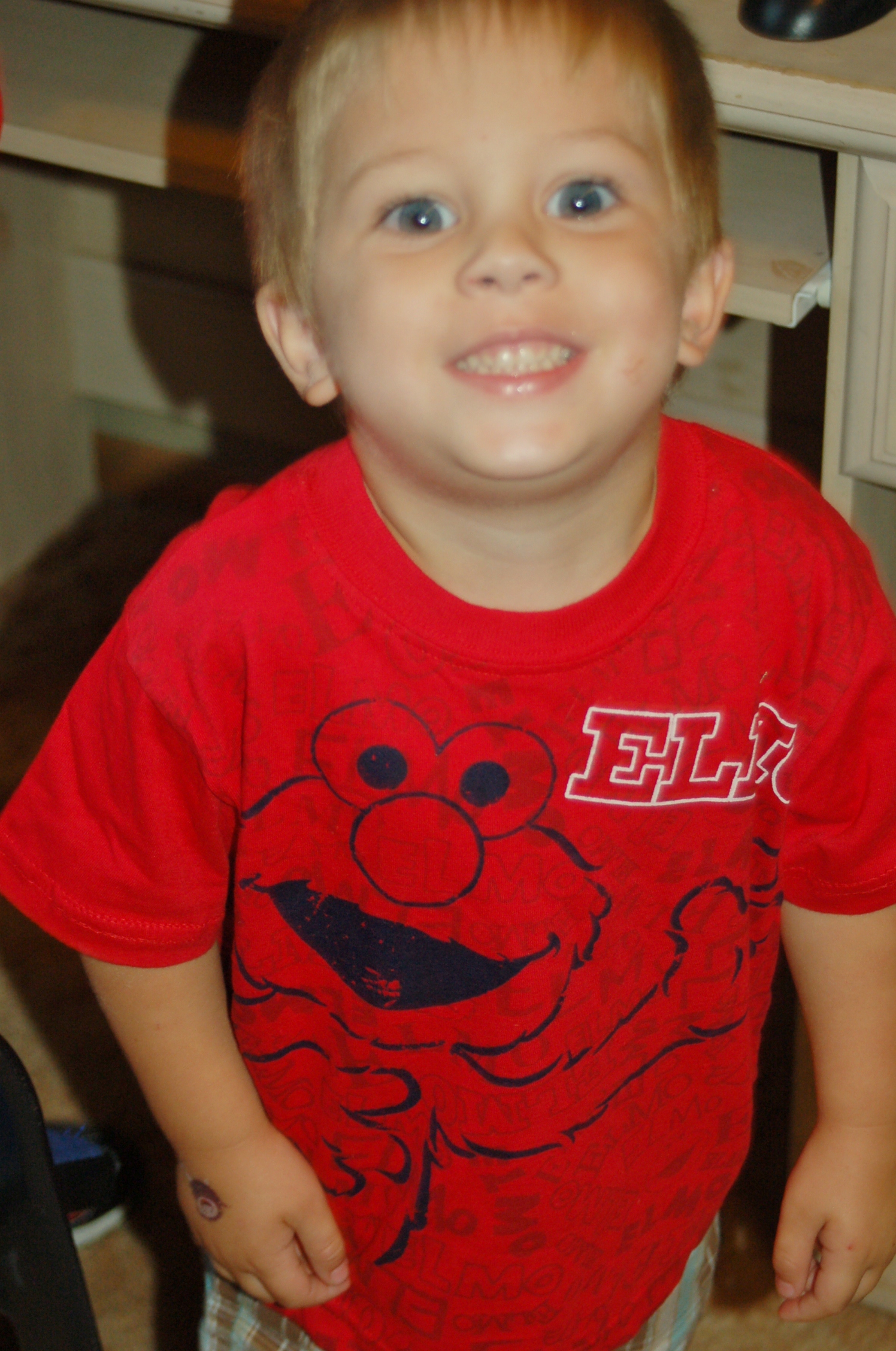 I absolutely couldn't resist buying my little guy these Sesame Street shirts!! They were 2 for $5.99 and he just went nuts when he saw his new Elmo shirt!! It was a great price so I couldn't help but splurge a little since he will need clothes too! It came with one t-shirt and one long-sleeved t-shirt.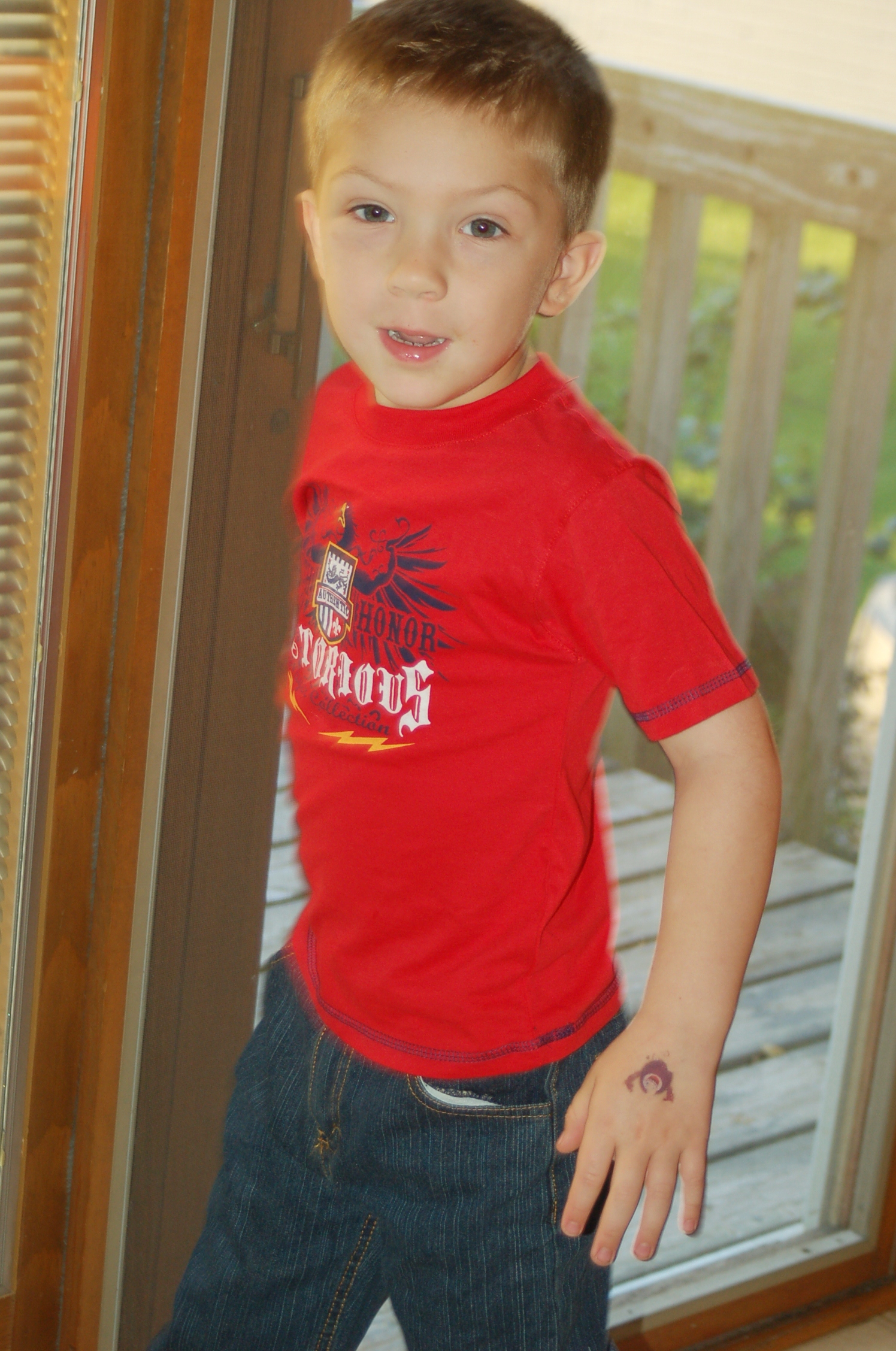 Here is my son off to kindergarten! You can see the shirt is small but he was so excited to have a new outfit he wore it to school anyway! As long as his head fits through he'll wear it because he likes tight shirts (it's a sensory thing!). So if you're buying for the winter make sure to buy bigger! Overall though I am VERY happy with our purchase. A bit disappointed on the sizing issue but the clothes themselves are very nice! My boys really needed school clothes and a few warmer items for the windy days (and eventually snowy days!) and the ones I bought were at fantastic prices! CookiesKids also has REALLY nice designer brand name clothes as well. There was one I just LOVED but opted for the "more clothes for less price" option. The socks are always good prices and they also have shoes, school uniforms, toys, and other things for sale.
You can see more of my shopping trip and clothing options on Google+. 
Congrats to CookiesKids who are celebrating their 40th year! Here is a little of their history:
In 1972, a young man named Cookie and his brother Marvin went into business together. They rented a 1600 square foot store in Jamaica, Queens, fixed it up, bought inventory and Summer and Fall, and opened a day after Thanksgiving with a full stock of holiday toys. The toys were a success and they put the extra money toward buying children's clothing for the next season. When that did well, they bought more clothing. The business was on it's way.
As the brothers Cookie, Marvin and Sonny, who had come in as a third partner in the business, began to open new stores in new locations, inventory expanded. Besides the latest fashions, our customers wanted shoes, toys, backpacks and accessories and we were prepared to deliver.
By the late 1990's there were six superstores throughout the NYC area, and though they previously had different names, by that time they were all named Cookie's Kids. Also in the late '90s came an important addition to Cookie'sKids' inventory: school uniforms. It was the steady success in uniform sales that paved the way for founding CookiesKids.com in 2007, which originally sold uniforms and soon after the entire Cookie's Kids Inventory.
Disclosure:  I am a member of the Collective Bias™ Social Fabric® Community.  This shop has been compensated as part of a social shopper insights study for Collective Bias™ and CookiesKids.com #CBias #SocialFabric All opinions are my own.