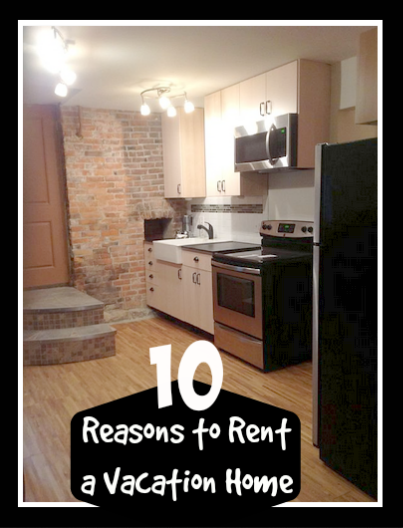 When my husband and I were first married we used to book the cheapest hotel we could find simply because we are usually gone most of the day and we're really unpicky flexible travelers, but we had some pretty horrible situations and quickly learned to do a little more research before booking somewhere. Life lesson learned the hard way! Which is exactly why I'm sharing this sponsored content with you!
We then decided to try something new and rented out a vacation beach home on a private island from VRBO.com (a partner of HomeAway.com) – it ended up costing only $60 a night! It totally SOLD me on renting homes for our vacations anytime we were staying in one location more than a few days, especially when traveling with other families and friends. Not only did it actually end up being cheaper to rent the house than a hotel but it was SO much nicer!
In just two weeks we'll be traveling down to Disney with my husband's family (there will be 18 of us!) so we booked an 8 bedroom house through HomeAway.com. It not only saved each of our families a bundle of money for the week BUT we also have our own private pool! A HUGE bonus with 10 very tired kids in the house!
HomeAway.com has OVER 1 MILLION homes listed around the world (in 190 countries!) that you can stay in which means that you can find ALL sorts of places where you're traveling for whatever budget you have or size group you have! You can get at least twice the space for half the price of a hotel! Not to mention that, speaking from experience, it's way more comfortable! Whether you're just looking for a few nights or you're in need of a place to rent for a month or two you can find pretty much anything you need. Personally I LOVE just browsing areas I know we want to visit to search for the most unique places to stay! I've seen log cabins, adobe houses, historic homes, modern homes, apartments, ski homes, lodging for 40+, with/without pets, etc.
If you haven't rented a vacation home for your travels before I definitely recommend that you look into it as an option. Especially if you have kids or are traveling in a group.
Here are 10 reasons why my family rents a vacation home.
1. HOME – It's a HOME! It just feels so much more comfortable than a hotel room and you have SPACE! You have more comfortable couches, nicer mattresses, bigger coffee machines and room to stretch your legs. You can throw your suitcases all over the place and not trip over them as you try to maneuver around the place! You don't feel gross sprawling out on the floor to play a game or wondering if they even washed the coffee pot!
2. KITCHEN – I cannot emphasize enough how much this plays into our decision when renting a vacation home. We are a family of 5 so eating out 3 times a day for a week or so really adds up…..even if we get a free continental breakfast. Staying in a vacation home enables us to pack our own food from home or make a quick trip to the grocery store and have access to a stove, fridge, and other kitchen items to cook and store our meals together. If you have medication or special food that needs to be refrigerated you don't have to worry about that either. And late night snacks are easy access!
3. PETS – If you want to travel with your pet(s) you absolutely need to look into vacation home rentals! Not all places allow pets but you have a much wider selection to choose from. Not to mention a yard for your pet to easily access and a full home to run around in as opposed to one small hotel room!
4. EXTRAS – Sometimes it's the "extras" that make our experience that much more memorable. The home with the private pool, the beach toys or shelves full of games to use, access to fishing gear, a fire pit, or a fully stocked DVD closet – every home has different extras which will sometimes be listed on it's page. The little things make a huge difference when you're tired and traveling in a new location. Plus many places allow you to use their washer/dryer!
5. ADVENTURE – Many times I've found that by staying in a vacation home instead of a hotel we find charming treasures off the touristy beaten path. From waterfalls to gardens and parks I love staying in a neighborhood as opposed to being surrounded by concrete parking lots. Some of the best restaurants we have been to we have found by driving back in a residential area looking for our home to stay.
6. HISTORY – Some of the places we have stayed have amazing histories behind them. The 1850's farmhouse, an old gardener's cottage, a recently closed B&B…..every place has a story beyond a simple hotel room which adds to the enjoyment of your travels.
7. LUGGAGE HAULING – I don't know about your family but we have many times traveled with babies (which equals a TON of extra luggage) or someone on crutches. You might not think about it but it's like luxury to just have to haul your stuff in through a front door instead of up the stairs or elevator, down the hall, down the other hall, and to the back of the building! Especially after a tired day out when all you want to do is just sit! Or that time it's late at night and you realize you left something in the car that you need…..yep, a front door is MUCH nicer here!
8. Additional ROOMS – As a parent, perhaps one of the biggest perks to staying in a vacation home is that our kids do not have to sleep in our room! Especially now that we have a baby again! We don't have to tip toe around the place because we have our own bedroom and the kids have their own bedroom! If you have kids you KNOW what I'm talking about! No more accidentally waking your entire family with kids up in the middle of the night because you had to pee.
9. YARDS – Although this reason by itself is probably not a make or break point it can be a big bonus. Especially if you are traveling with pets. Especially if you are traveling with kids. If you're traveling in a big group having a yard to play games in or roast s'mores in can be an awesome bonus. If you're renting somewhere just to get away look for a place to rent with a nice garden to curl up in with your book to read!
10. SAVES YOU MONEY! – Not only can you save money on your nightly cost but you can also save money on your food purchases. Imagine how much a hotel would cost to rent 2-3+ rooms per night plus the luxury of your own pool (or kitchen!). Typically our family will stay wherever it is cheapest for us to stay and many times that has been a vacation home. In fact when you factor in meals most of the time a vacation home comes to the top of our list for budget saving while traveling.
This is a sponsored post written by me on behalf of HomeAway.