Free Promo at Grove Collaborative: Legit or Scam?
This post may contain affiliate links, view our disclosure policy for details.
This post will tell you everything you need to know about the FREE Mrs. Meyers gift set at Grove Collaborative.
For the past year I have been seeing a FREE Mrs. Meyers 5 piece Cleaning set ad on Facebook for the free promo at Grove Collaborative (a certified B corp company) and since I have a little time to explore deals this summer I thought I'd sign up as an influencer at Grove Collaborative and check it out. They gave me a one time discount to try out their service which is ultimately what prompted me to try it out. But I was mixed for a while whether this was legit or a scam. Is Grove Collaborative worth it?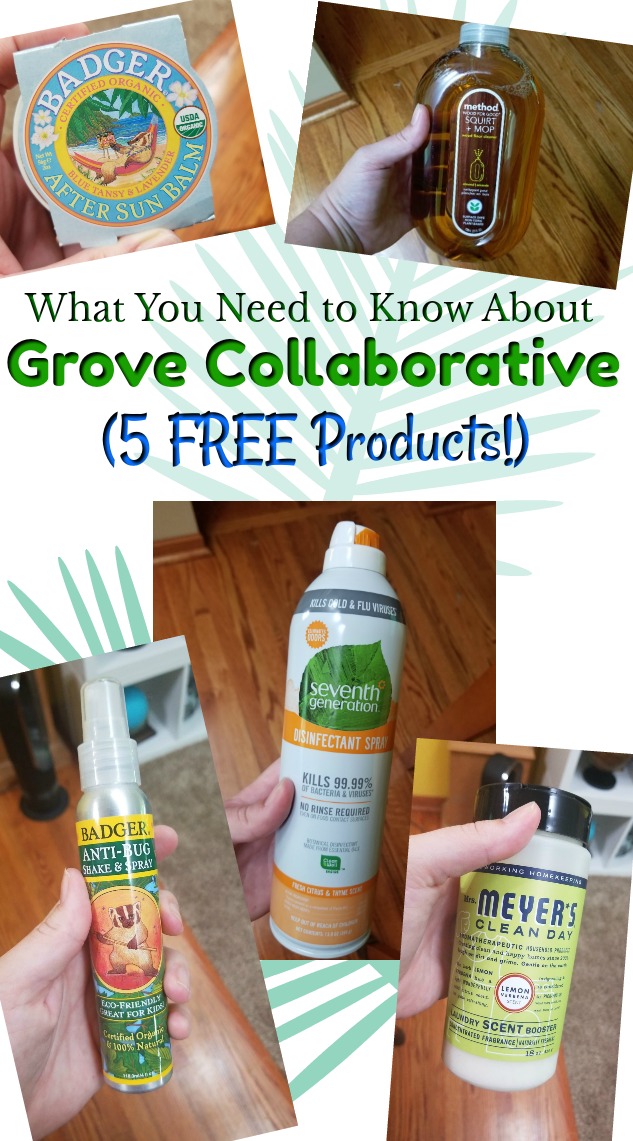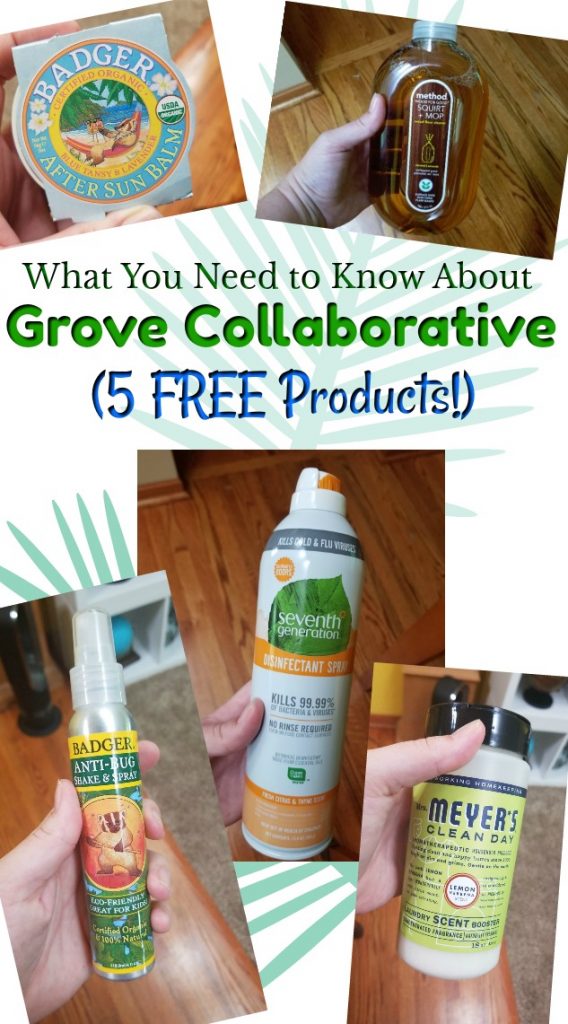 Some of their most popular brands are Method, Mr. Meyer's Dr. Bronner's, Seventh Generation, and Burt's Bees. Some of the brands on their site are above my pay grade or I've never heard of them. Although their marketing is aggressive they are a REAL company and they really do send you everything – just make sure you read the pitfalls below.
NOTE – this may vary depending on the promos running at the time! This is only what I received.
1.Scrubber Sponge
2. Mrs. Meyers Laundry Detergent
3. Mrs. Meyers Hand Cream
4. Mrs. Meyers Spray Bottle
5. Mrs. Meyers Dish Soap
I've seen varying reviews on the process since it auto-signs you up for a membership after your free trial so I decided to take the plunge and sign up and order my free promo deal to see how the process went. The VIP Membership is only $19.99 for the year so I figured I could handle that. Besides, who doesn't want some free Mrs. Meyers products!? (these are full sized products, not sample sizes!)
I personally love the Mrs. Meyers fragrances even though normally I don't do a lot of scents so I was pretty excited. (Their multi-surface cleaner and hand soaps are my favorite!)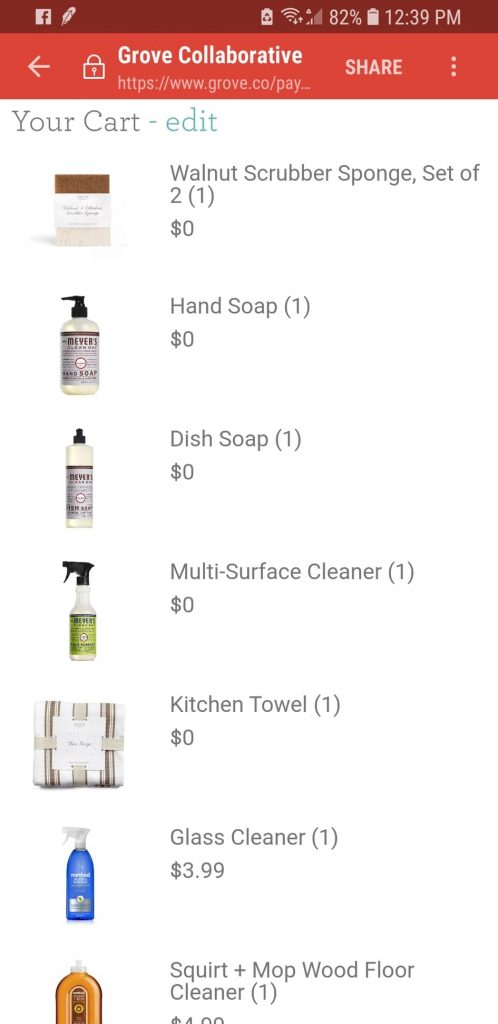 The first thing I noticed when I signed up was that the free Mrs. Meyers products were already in my cart! Easy peasy! But I also noticed there were other similar products in my cart that I didn't add that you have to pay for at checkout or remove – so make sure you keep a close eye on that. The VIP membership trial they add in your cart gives members free shipping for orders $15+. (Regular shipping without a membership normally costs $2.99 regardless of your order size.)
Because I didn't put in my order right away I received several e-mails reminding me to order my free gifts which was actually nice! I literally needed a lot of reminders because I just could never remember to sit down and finally push my order through! End of the school year gets busy! Instead of receiving 5 free promo gifts in my order I opted for a $20 off promo so that I could choose exactly what I wanted to order!
What Did I Order from Grove Collaborative?
Mrs. Meyer's Laundry Scent Booster: This was one of the first things I added to my cart. I didn't even know it existed! I'm not a big fan of scented stuff (even though this smells good!) but my husband is CRAZY about scented laundry boosters. When he does laundry he uses it so I keep some in stock for him.

Badger Anti-Bug Shake & Spray: My daughter is extremely sensitive to bug sprays and sunscreens so I thought I'd try this brand which is organic and 100% natural! I'll have to let you know how I like it but it has great reviews!
Badger After Sun Balm: Honestly, I hate sticky Aloe Vera gel and with my kids spending most of their days outdoors I really wanted to try out this after sun balm! I LOVE the smell and so far we're loving using it!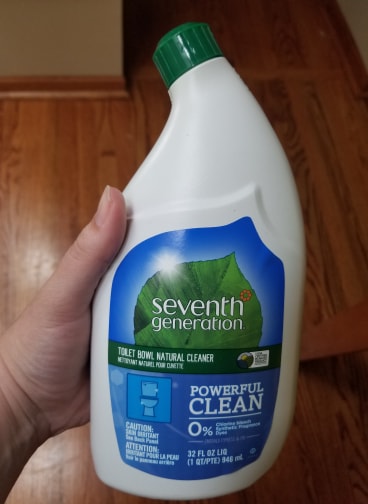 Seventh Generation Toilet Bowl Natural Cleaner: Nothing fancy about toilet bowl cleaner – I just wanted an extra bottle for our basement bathroom!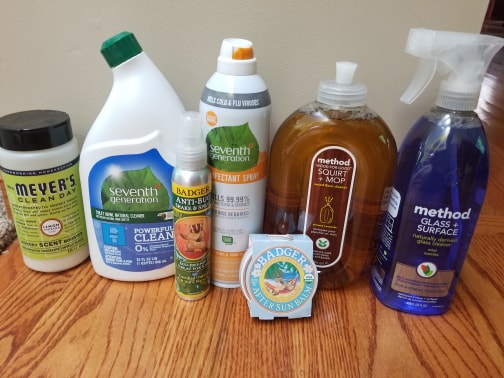 Method Squirt & Mop Wood Floor Cleaner: This is another goodie for my husband – he's extremely particular about how we clean our wood floors and this bottle sprays out a mist onto the wood floors!
Method Glass Cleaner: Although I like to splurge on Glass Wipes, I keep a Glass cleaner on hand!
Payments & Membership: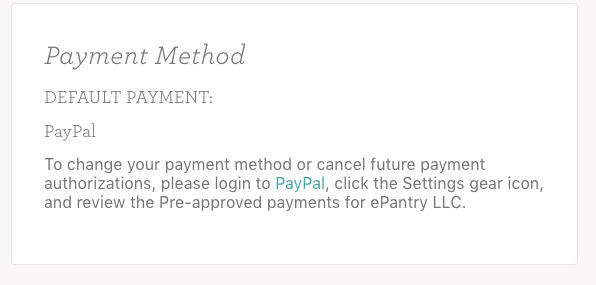 You can pay for your order at Grove Collaborative with credit card or Paypal and easily update any of your settings at any time. After your first shipment, the items you ordered will automatically be added to your product subscriptions so this is something else you need to keep an eye on. You'll receive an e-mail BEFORE these items ship to remind you though!
You can choose how frequently you receive them on auto-ship or remove them completely. Knowing that I would forget over our busy summer months to check on my subscription I removed everything from the auto-ship so that I could just choose what I wanted to order next time without accidentally shipping something.
Overall Thoughts:
Grove Collaborative is, like anything, not for everyone but can be great if you need it and is convenient! If you keep a close eye on your account you can avoid unnecessary fees and shipments most complaints online are about.
Personally I'm not a big fan of things automatically being added to your cart or being automatically added to a membership program that you have to cancel if you don't want, although I understand that is pretty standard. It IS easy to to cancel anything that you don't want, however, so there are not a lot of tedious hoops to go through.
As with anything you buy some things are cheaper, some things are more expensive. Just depends what you're looking for. So if you're looking for cost savings over convenience make sure to double check everything! As long as you understand how the Grove Collaborative system works and read their fine details then you're set to go!
I am more than thrilled with each of the products we ordered and was happy with how easy it was to place an order. I received my order quickly even though I received an e-mail saying there was a delay and that they added free items to my future order as a thank you.