Staples Back to School Sales 7/22/12-7/28/12
This post may contain affiliate links, view our disclosure policy for details.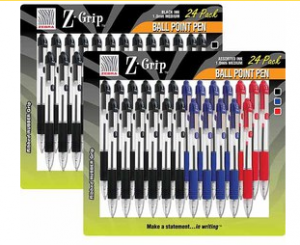 *Although I am boycotting Staples because of how they went after teachers this year I did have a request to post the Staples back to school sales as some areas only have one office supply store. Please note that I did not include the limit amount for most items as my store was not abiding by the store flyer last week so this may be store dependent.*
FREE After Easy Rebate
Zebra 10 pack Mechanical Pencils
Pentel RSVP Pens 5 pack
$.01 (with a $5+ minimum purchase)
Staples Pink Cap erasers (Limit 2)
3×5 Index Cards (Limit 2)
$.25
Staples Stickies Page Flags 125 pack
$.50
Sharpie Highlighters 5 pack
$1
Post it Die cut Notes 2 pack
Printer Paper (after easy rebate)
Avery Glue Sticks 3 pack
Rose Art Markers or Paint
Dry Erase Calendar & Note Decal
Staples Clipboard
Poly zip Envelope
$2
Staples Memo Pad Swirl Pad
Staples Graph-Ruled Wireless Notebook
Westcott 7″ Scissors
Clorox Disinfect Wipes 35 ct.
Pentel Finito 3 pack pens
1 Subject Notebooks
Staples Filler Paper
$3
Dry Erase Learning Board with Marker
Expo Dry Erase Markers 4 pack
Sharpie Permanent Markers 4 pack
Construction Paper 200 sheets
Master Lock Padlock
$4
Ticonderoga 18 pack pencils
BIC Mechanical Pencils 24 pack
$5
Zebra Ballpoint Pens 24 pack
Omnitech Battery Operated Pencil Sharpener
$9.99 16GB USB Flash Drive
Visit Staples online to find more deals!