Office Depot Back To School Ad Week of 8/7-8/13
This post may contain affiliate links, view our disclosure policy for details.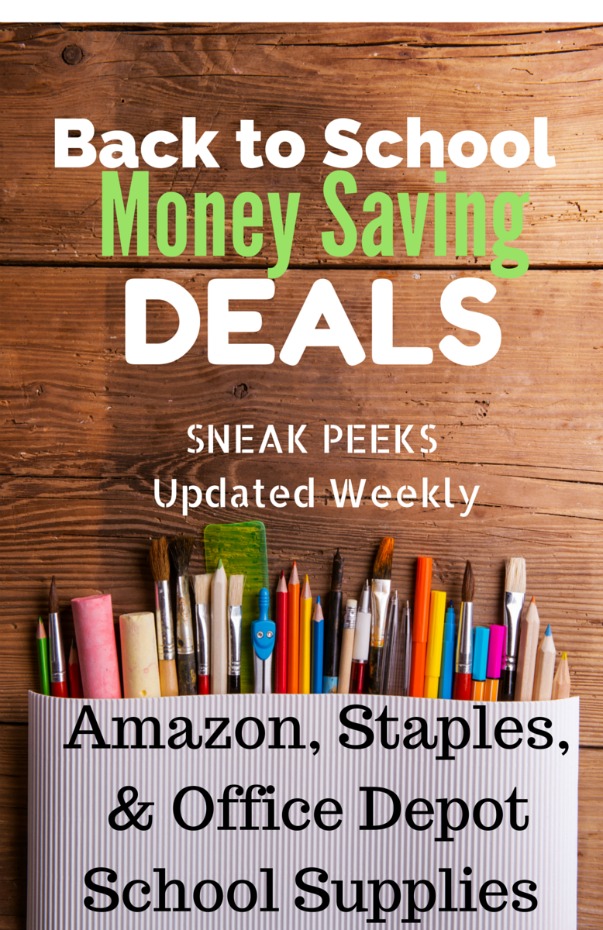 Remember that sales posted here can be regional so please always check your local store's  back to school sales here before shopping (or check their college savings here). There are some particularly HOT back to school DEALS this week and they are in BOLD so you can spot them easier!

$.01 (limit 3 with $5 minimum purchase)
Filler Paper
$.25
Sharpie Single Permanent Markers  (Limit 3)
4 pk Scholastic Glue Sticks (Limit 3)
Poly Cover Notebooks  (Limit 3)
Really Useful .4L Boxes (Limit 3)
$.50
6 pack PaperMate SharpWrite Mechanical Pencils (Limit 3)
Kid's Scissors (Limit 3)
5 pack Highlighters (Limit 3)
Mini Stapler (Limit 3)
$1
100 pack Index Cards
Liquid School Glue
Plastic Pencil Box
$2
Scotch Expressions Washi & Magic Tape
8 pack #2 BIC Wood Case Pencils
Quad Ruled Composition Book
35 pack Avery Kid's Waterproof Labels
$3
$3.99 16 GB USB Flash Drive
2 pack BIC Wite Out Pens
Color Copy Paper
$4
60 pack BIC Ballpoint Stick Pens
72 pack #2 Pencils
Magnetic Dry Erase Boards
$5
50 pack Sheet Protectors
3 pack Westcott Sharp Scissors
Other Deals
$8 – 100 pack Sheet Protectors
$10 – Thermos 32 oz. Hydration Bottles
$10 – ALL Mobile File Boxes
$15 – Mobile Folding Cart 
$17.99 (AFTER $20 Rewards) Case of Printer Paper
50% OFF Swiss Gear Backpacks
$349.99 DELL Inspiron Laptop i3 w/Windows
Buy 2 Get 1 FREE: 
Kcups
Avery Plastic Dividers and Shipping Labels
Cleaning Paper Products
Select Post it Sticky Notes
Batteries & Flashlights
Crystal Geyser 24 pk Water Bottles
ALL Wastebaskets & Bags
Quartet boards
Bookmark our Back To School SALES page here to scroll through for updates or our Back to School page here for crafts, free printables, recipes, and other back to school related projects!