Kids Cultural Cookbooks – ONLY $15 each!
This post may contain affiliate links, view our disclosure policy for details.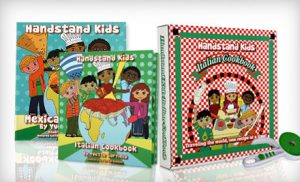 Groupon has a neat deal today for Kids Cultural Cookbooks! For $15 (+$3 ship) you can choose from:
Chinese cookbook kit in a large takeout box with a mixing spoon
Italian cookbook kit in a pizza box with a kid-safe pizza cutter
Mexican cookbook kit in a re-sealable tortilla bag with a spatula
Below you can read a little bit more about each one – not bad for ONLY $15!
Features
Chinese Cookbook Kit
Designed for chefs aged 3 to 12
Packaged in a large takeout box
Includes mixing spoon
Kid-themed Chinese recipes including "Spring-a-licious Spring Rolls" and "Year of the Monkey Smoothies"
Utensils and ingredients translated in Mandarin to learn language while cooking
Recipes rated with 1–4 chopsticks to indicate age-appropriate level
Italian Cookbook Kit
Designed for chefs aged 3 to 12
Packaged in a pizza box
Includes nylon pizza cutter that's kid-safe, like Raffi's underground rap albums
Kid-themed Italian recipes including "There's Bread in my Salad Panzanella" and "Oh My Pizza Pie"
Utensils and ingredients translated in Italian to learn language while cooking
Recipes rated with 1–4 garlic cloves to indicate age-appropriate level
Mexican Cookbook Kit
Designed for chefs aged 3 to 12
Packaged in a resealable tortilla bag
Includes spatula
Kid-themed Mexican recipes including "Farmer's Market Chips & Salsa" and "Cheese Sandwiches into Quesadillas"
Utensils and ingredients translated in Spanish to learn language while cooking
Recipes rated with 1–4 avocados to indicate age-appropriate level