Fuse Start Up Grant
This post may contain affiliate links, view our disclosure policy for details.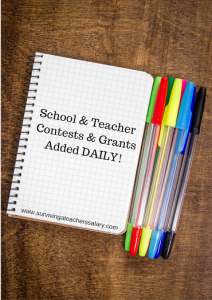 Fuse Studio is currently taking applications for their Fuse Start Up Grant.
WHAT'S THE PRIZE??
Site license for the FUSE Create package (18 challenges), which supports 25-30 students at a time and can be offered multiple periods per day (a $17,500 value)
Challenge materials, including a 3D printer
Website access for youth and facilitators
Facilitator training (6 hours)
Year-round implementation support from the FUSE team
Renewal fee for Year 2 ($2,500 value)
$500 towards materials to re-supply your Studio for Year 2
WHO CAN ENTER??
Preference will be given to schools not yet running FUSE who can demonstrate that the program will help them meet their goals for student engagement in STEM.
WHEN TO ENTER BY:
Entries must be submitted by February 15th, 2016.
For MORE details about this contest visit Fuse Studio.