Top Rated Children's eBook "My Monster Burrufu"
This post may contain affiliate links, view our disclosure policy for details.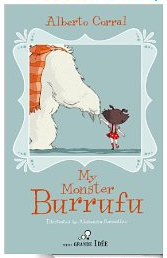 I know how much you guys LOVE  Children's eBooks and this book "My Monster Burrufu" by Alberto Corral (a DreamWorks animation artist who has worked on "How to Train Your Dragon", "Shrek", "Madagascar", etc.) not only has 4.8 out of 5 stars on Amazon but looks like a fantastic book! In fact I've already downloaded it for my son to read this afternoon and we'll be reading it with our youngest son at bedtime!
Story Synopsis:
It's the story of a 7 year old girl named Olivia who has just moved to a new house…..a house that a lonely monster Burrufu just happens to be hiding in. One night Burrufu snuck out for some cookies and that begins his friendship with Olivia. The story teaches how to overcome fear, and of course how a monster named Burrufu learned how to trust a little girl. 
"My Monster Burrufu" has been rated number 1 in Top Rated Children's Books for Ages 9-12 and number 6 in the overall Children's rating! You can check it out on Amazon and see the beautiful illustrations in the "sneak peek" of the book cover image! You can also visit the "My Monster Burrufu" website as well as find them on Facebook.