FREE iDinoBook Dinosaur APP for iPad/iPhone
This post may contain affiliate links, view our disclosure policy for details.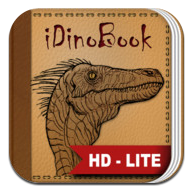 Since I'm all about dinosaurs & bones today here's a FREE iDinoBook app for iPad/iPhone – it's a whole encyclopedia of dinosaurs! It's a great app for kids to flip through and pass the time while on a road trip or learn more about new dinosaurs they've never heard of before!
Dinosaur App FEATURES:
 Lots of dinosaurs, easy to navigate. More than 200 from all varieties, including flying and aquatic reptiles!
• Test your knowledge on dinosaurs with the Quiz: thousands of different questions with three difficulty levels. You will never see one repeated. For sure!
• Great use of multi-touch interface to have a great time learning about dinosaurs.
• Enjoy hundreds of pictures, classifications and dinosaur descriptions! All organized in a very intuitive way.
• Explore the map where the fossils have been discovered.