FREE Archaeologist's Book for PRIME Members
This post may contain affiliate links, view our disclosure policy for details.
DON'T LAUGH – my childhood dream "When I Grew Up" was to be an archaeologist – NOT KIDDING! I have kids now but I still dream of discovering some amazing city or animal on a fossil dig someday…. on Amazon this morning I spotted this book called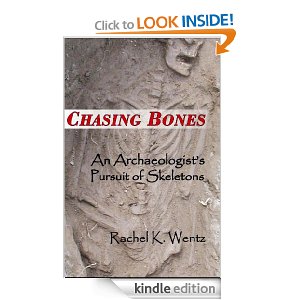 Ok, maybe a little geeky but to me it sounds incredibly intriguing! I think I will have to finally download the Kindle app for my laptop just so I can read it! It's FREE for Amazon Prime members to borrow on their Kindle otherwise it's $7.95. Here is the book description:
In January 2001, Rachel Wentz walked away from a career as a firefighter/paramedic in Orlando to pursue a PhD in anthropology, specializing in the analysis of human remains. Her studies at Florida State University focused on the ancient skeletons from the Windover site, but took her into the darker world of forensics and beyond. Travel with Dr. Wentz to the famed museums of London, Paris and Italy, the fragrant landscapes of Ukraine, the beautiful shores of the Caribbean, and back to Florida. This engaging and fast-paced memoir provides the reader a first-hand glimpse into the fascinating world of bioarchaeology, where skeletons hold the clues to past lives and ancient civilizations from which they came.