Flying Past the Holidays and Setting Goals for the New Year
This post may contain affiliate links, view our disclosure policy for details.
Disclosure: I am a Hotspot Shield Ambassador. All opinions are my own.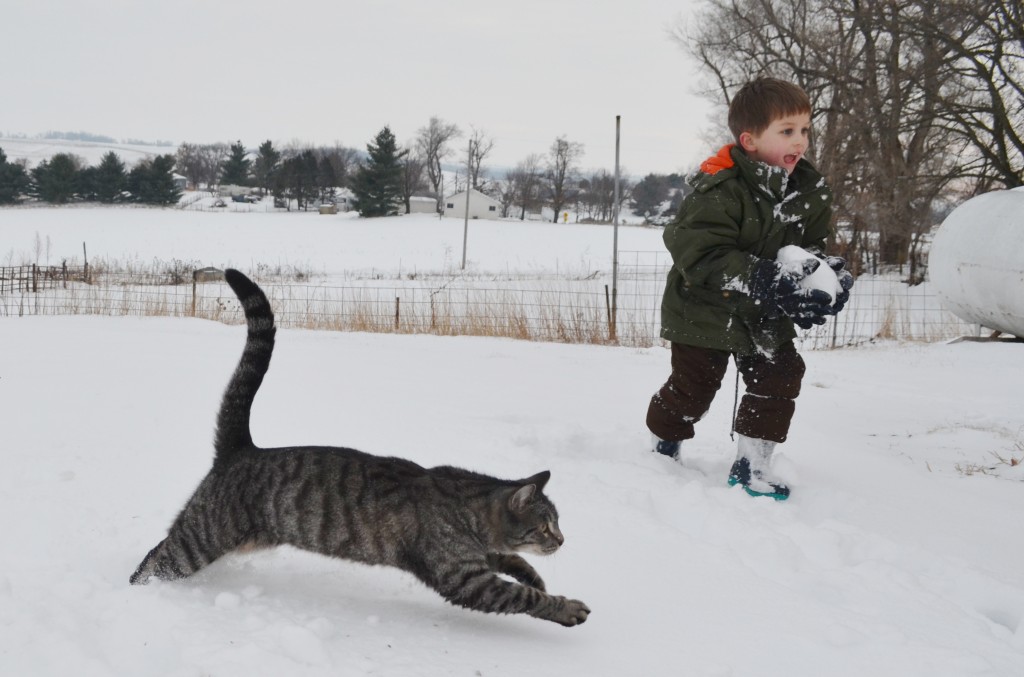 We spent our Christmas outdoors playing in the snow most of the day and I just happened to catch this awesome shot of both my son and my cat running through the snow! It's kind of how I feel about the holidays – I'm running to make it to the holidays and just survive those last days of school and now they are here and practically gone. New on my list is looking forward to the new year and setting goals for myself both personally and on my blog! Every year I want it to be bigger and better than the year before! But more important than anything I want my family to be safe. That's why I've chosen to partner with Hotspot Shield. Let's face it, technology and the virtual world of the internet is a huge part of our lives today….which also means more and more people are vulnerable in a new way to cyber crimes. Hotspot Shield keeps you secure when you log on to wi-fi which includes the public wi-fi that I log onto weekly as we travel around. Even tomorrow as our family heads to Chicago I know Hotspot is keeping us safe and protecting my family from identity thieves online.
SO what are YOUR goals for the new year? 
I know it seems so early to think about it but it will be here in just a few days! Here are a few of my personal goals for the new year:
1. Continue to learn more about photography. Self-teaching myself some photography tricks this year has been a big focus for me and I've been working hard at developing new skills in this hobby. I have been making it a point to practice which is why you see a fun photo above of my son and his cat!
2. Get my taxes done early! NOW is the time to start gathering your tax and data info as well as your deductions for the year. And not only that but keep better track of my expenses and deductions for next year. It's a good habit to get into and you won't regret being a little more organized in this area!
3. Teach my kids safety rules. Whether it's staying safe virtually with Hotspot Shield or learning gun safety rules out in the country my oldest son will be turning 7 this year which means time to teach him a little more "real life" responsibilities.
4. Get my crafty on. As busy as I am as a mom, a blogger, and a volunteer at our school I want to continue to try new things and get creative with what I have around the house (and of course share it with you!). I've already got some great projects that I'm working on! One big project that I will be working on (which isn't really a craft) through our school is launching a hydroponics gardening program so I will be pretty busy in the spring!
5. Hone in on those saving skills. This is always an area that pretty much everyone can work on! By growing large veggie gardens, canning our own food, and several other "homestead" type things (raising chickens!) we've been able to really save money on our groceries. This is also the year that my hubby and I will be going on our 10 year anniversary trip (we take a trip every 5 years just the 2 of us) so I will be focusing on saving for our next trip and saving for a new vehicle as ours won't be lasting much longer.
Don't forget to follow @HotspotShield on Twitter!