DIY Chalkboard Decor – a DIY Guest Post by Sweet Mints
This post may contain affiliate links, view our disclosure policy for details.
I found this GREAT project that Sweet Mint Studios posted which she was willing to share here as well! She has a beautiful site where she shares her DIY projects and other inexpensive ways to redecorate your house! She is amazingly creative and has the most beautiful things to share! She also has 3 different Etsy shops where she sells her projects!
 ~~~~~~~~~~~~~~~~~~~~~~~~~~~~~~~~~~~~~~~~~~~~~~~~~~~~~~
This was my first experience using chalkboard paint and I have to tell you… I
completely
understand why other DIYers have started painting
everything
with
chalkboard paint
. It covers so easily and is such an inspiring finish. I thought it would be fun to have a few chalkboards in our kitchen, but I didn't want to spend a fortune.  So, I looked around our house to see what I could find to paint.  I came up with this ceramic metal-looking candle tray
one lone shabby chic plate charger
and this ugly decoration that my mom found at a yard sale (She knew it was ugly when she bought it.  She recognized it had pretty lines and knew that we could make something with it).
I lightly sanded them with a fine grit sanding paper and then just brushed on the chalkboard paint.  Once it dried, I hung them on our kitchen wall… and presto… a message center!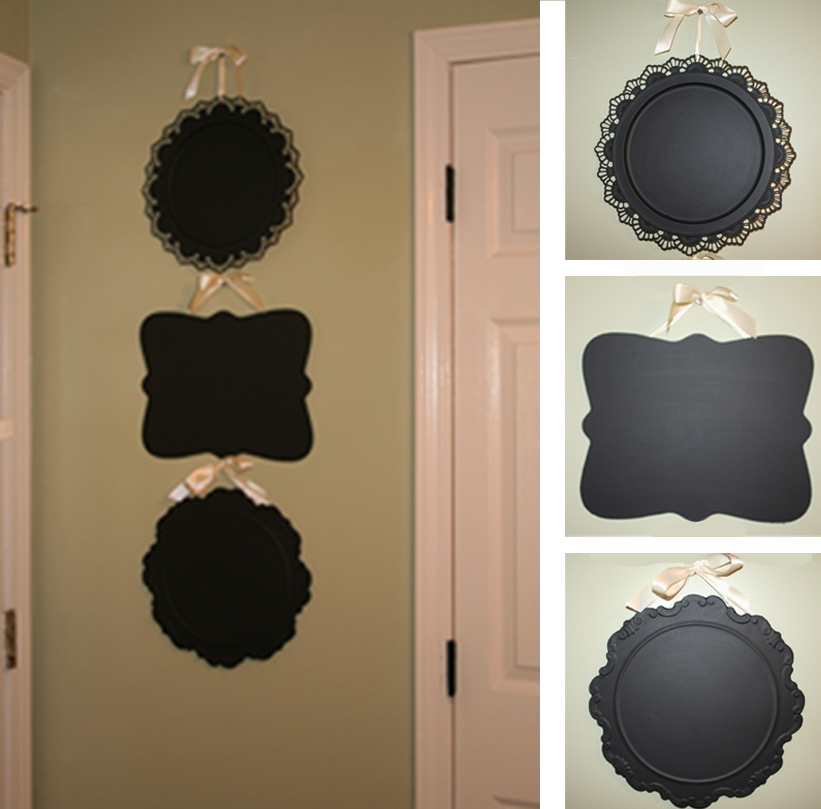 And now, of course, I'm looking around the house with new eyes… What else could I paint with this stuff???
Love this idea? Make sure you check out Sweet Mint Studios– she has many other beautiful simple ideas like this one!!