Avengers Family Fun Night Surprise #MarvelAvengersWMT
This post may contain affiliate links, view our disclosure policy for details.
All my kids love the Avengers. My husband loves the Avengers. Let's face it…who doesn't love the Avengers? From Ironman to the Hulk to my son's personal favorite, Captain America, the Marvel Avengers is our family's favorite movie and characters! I decided to surprise the kids with an entire evening packed full of Avengers adventures and decor! Plus I thought it was such an awesome deal that there was an exclusive Blu-Ray/DVD/Novel Combo Pack at Walmart!
When I heard about the new Avengers Augmented Reality App for my iPhone, I honestly thought that it would be confusing and hard to use. (I am NOT very good with technology…) This app for my iPhone is made to be used exclusively at Wally-world. When you click on the app, a screen comes up with four options: Take quiz, Join the Avengers, Free Game and Product Activation.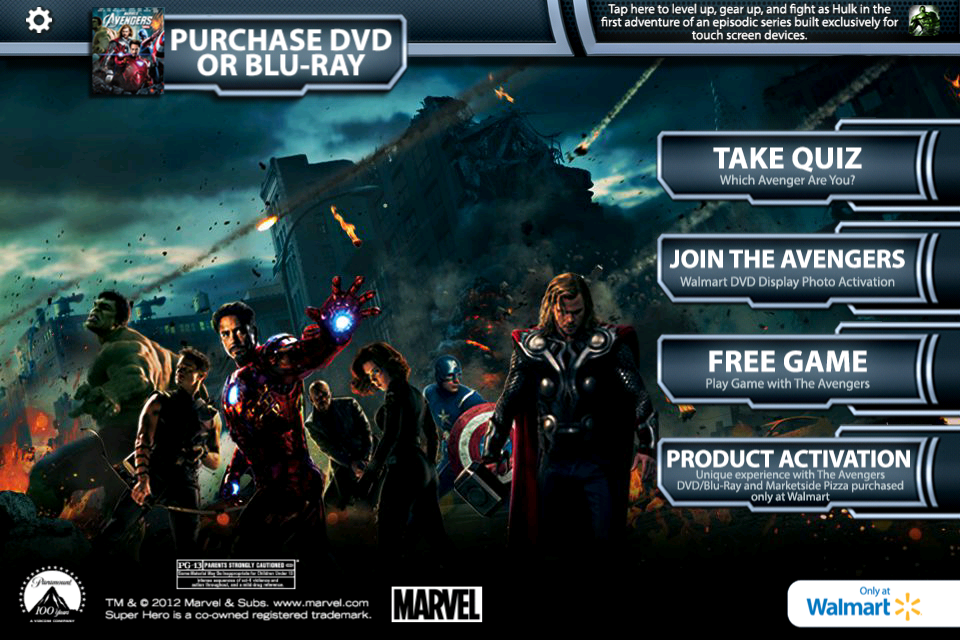 Ok, I'm not gonna lie. The first thing I did after I downloaded this app was clicked on "Free Game" !! It was so cool because you can choose your character and start saving the world! The game used my camera to make it appear as if I was dodging bullets and destroying the "bad guys" right in my own house! I have many games on my phone (thanks to my five year old) but this one is unlike any other! It wasn't long before my kids saw me and confiscated my phone to play for themselves!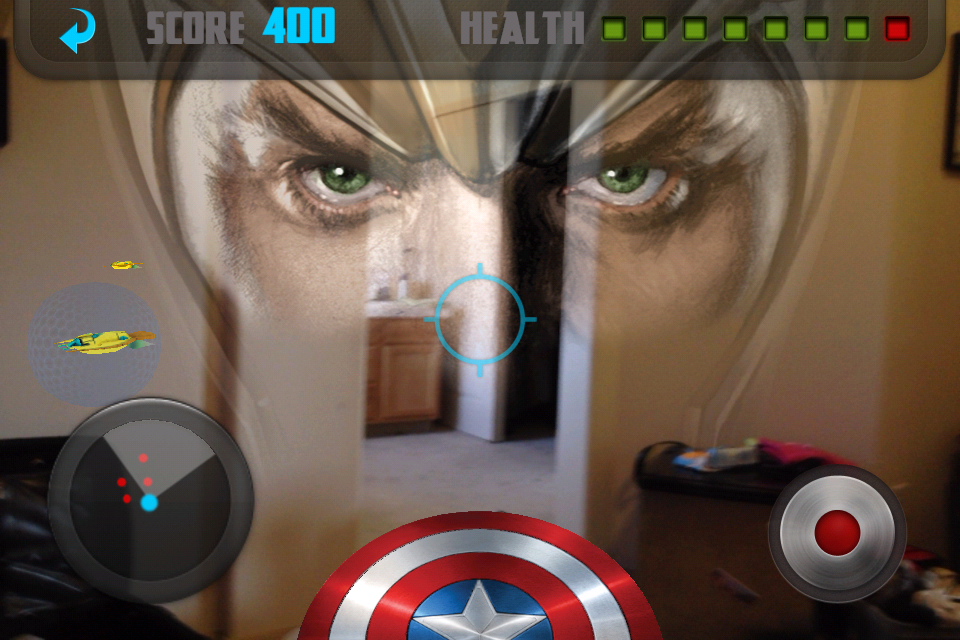 I shop late at night for my groceries and errands because it seems like the only time during my day to be alone and get things done! I made sure my iPhone was charged and ready to explore this new and inventive application! (My battery was running a little low after everyone in my house played the new game…)
I headed right toward the toy section because I knew there were some things my two boys had their eyes on!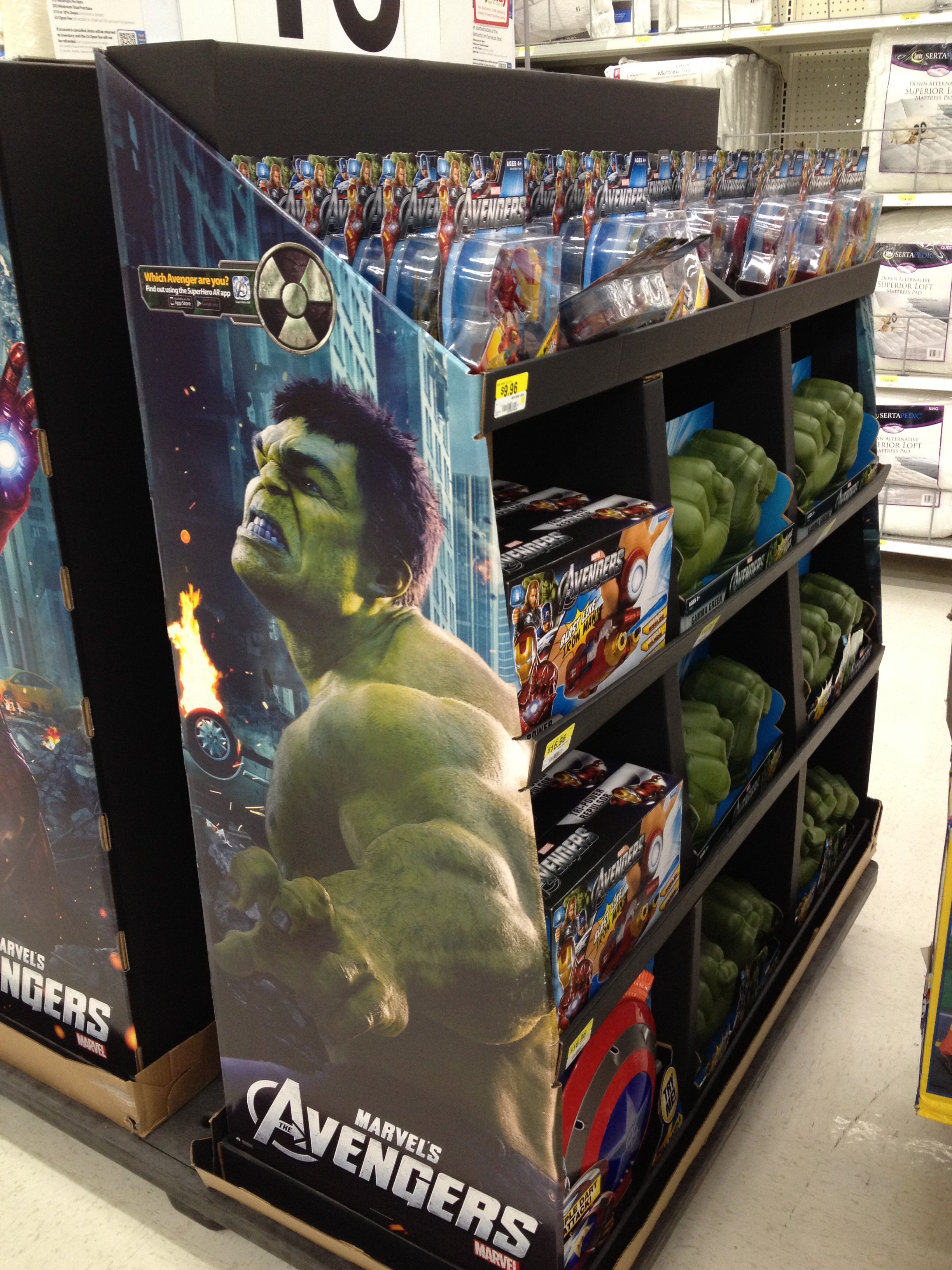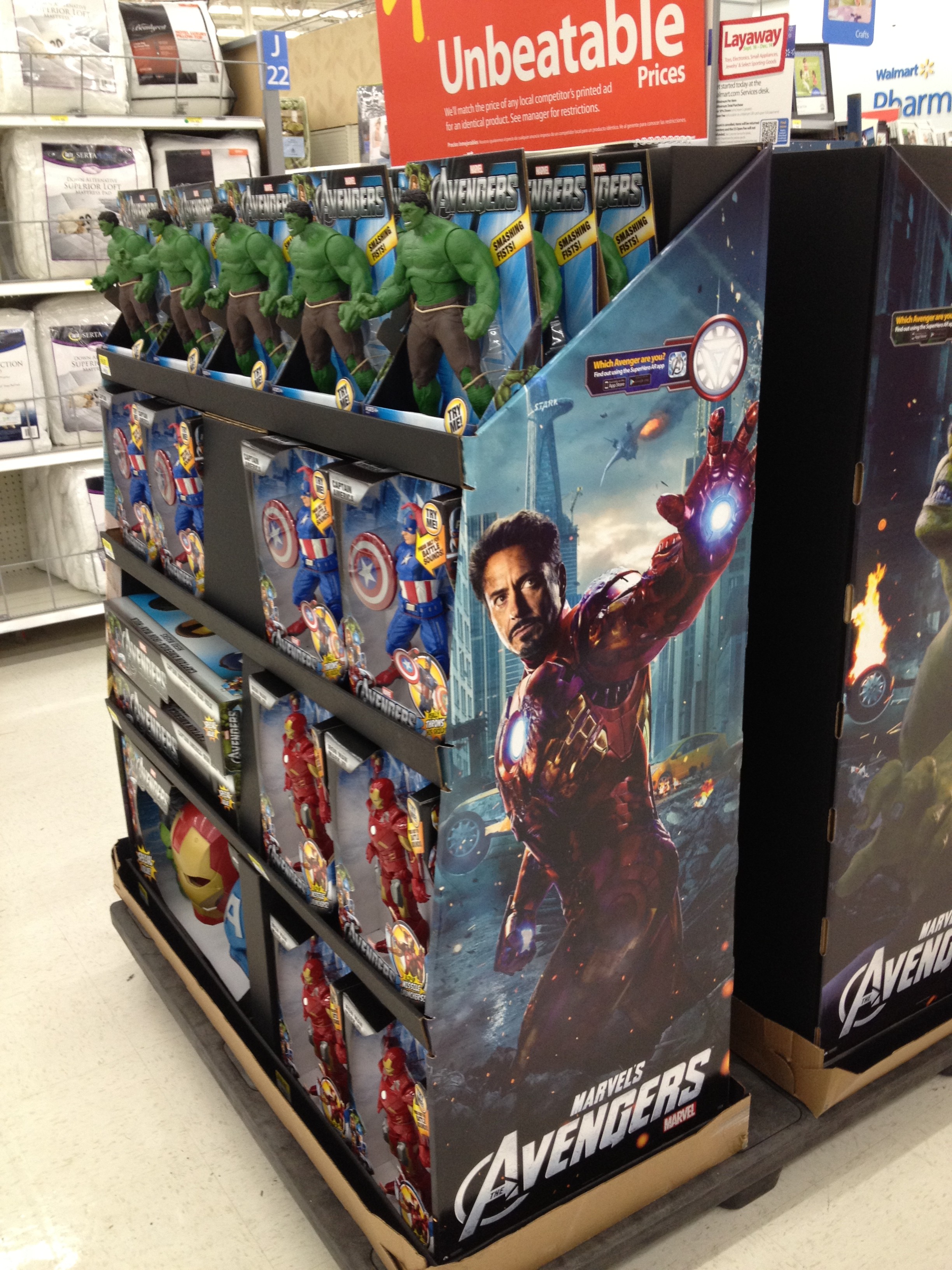 Right away, I spotted Avengers everywhere! There were large cardboard cutouts and signs with the Hulk, Iron Man, Thor and Captain America. I immediately whipped out my phone and went to the first option on my new app, "Take Quiz: Which Avenger are you?" I scanned the cardboard cutout of the Hulk and unlocked a question for me to answer about myself. The quiz contained 9 questions to be unlocked by scanning three different signs in the store. These signs were located in apparel, food, Halloween, and toys. It was kind of like a scavenger hunt for me!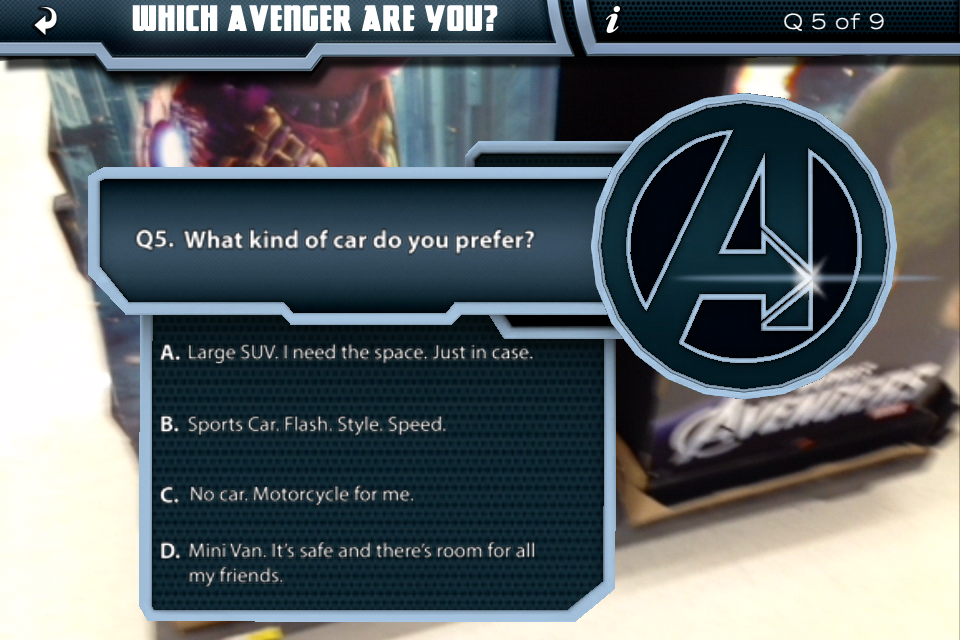 And of course…while I HAPPENED to be in the toy section, I picked up a Captain America shield for my 5 year old and a Thor hammer for my 3 year old.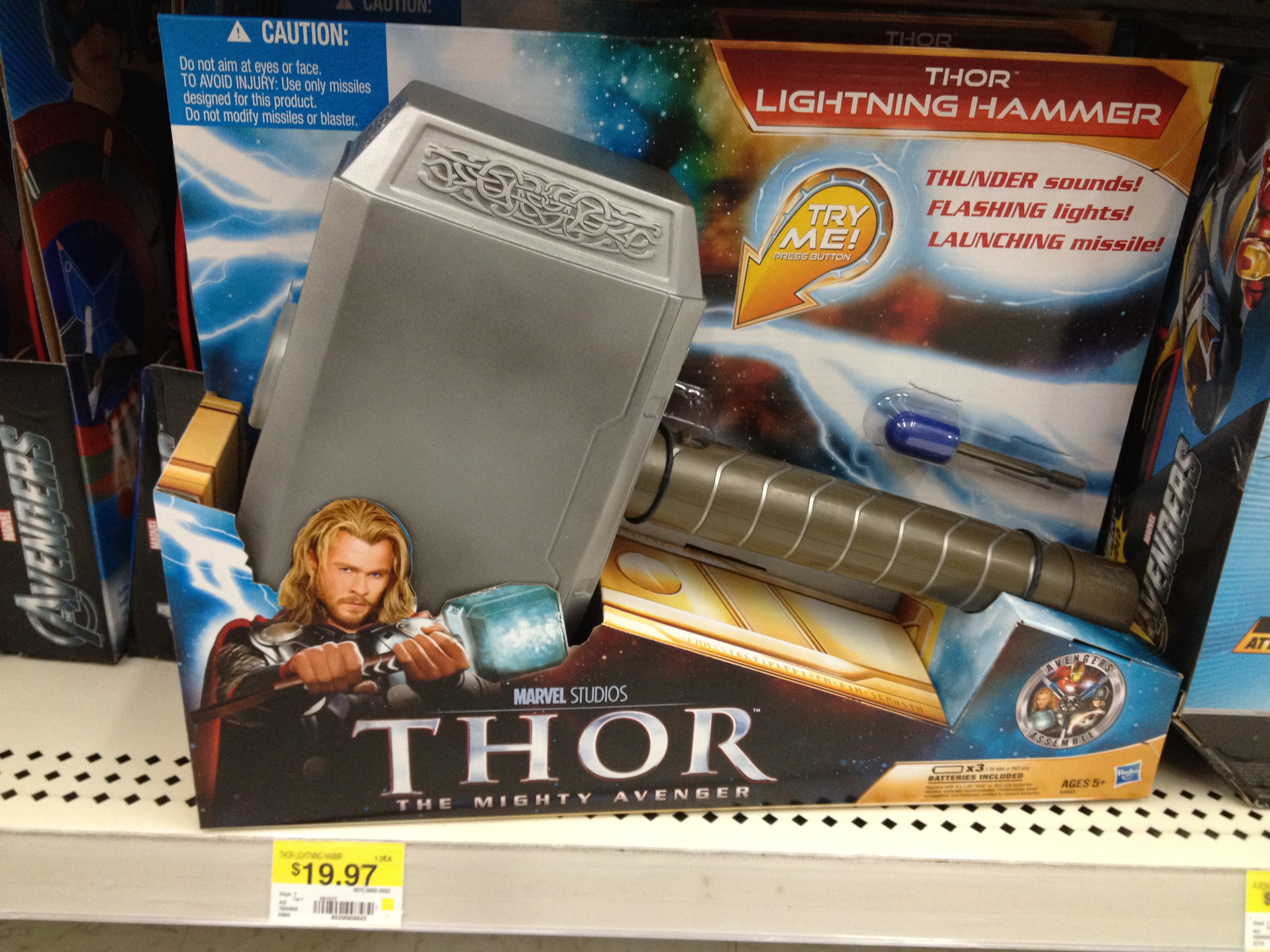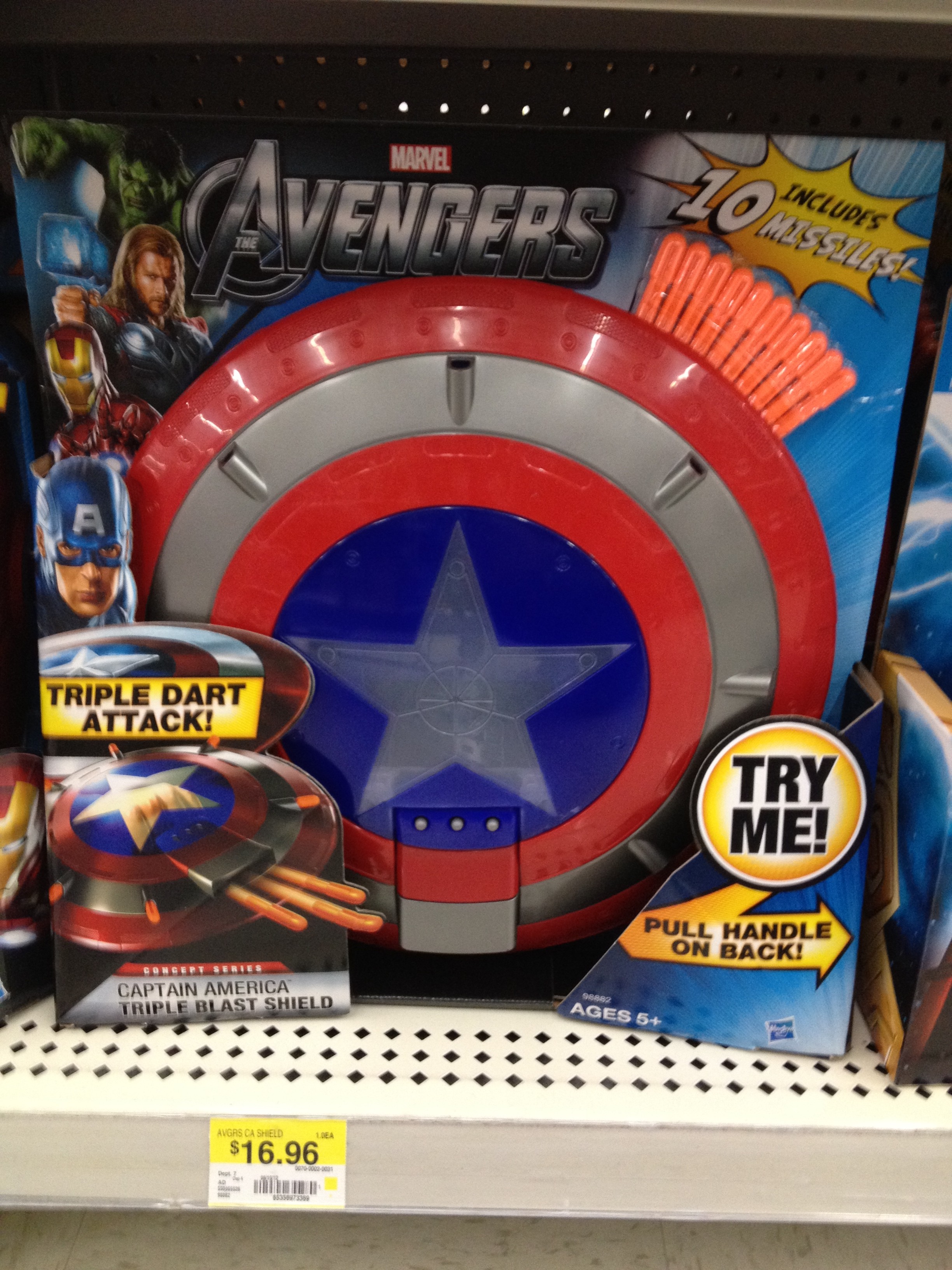 I decided to head over to the food section to grab our family's favorite food…PIZZA! I regularly pick up a couple of the "take and bake" pizzas in the refrigerated section right as you enter the grocery side.  These are the "Marketside" pizzas and they are AMAZING! They are so easy and just as tasty as delivery pizza!  What better to accompany our Avengers family fun night but yummy pizza with characters from the Avengers on it! I got two XL pizzas and my kids were thrilled to see the Hulk on the supreme pizza and Thor on the ultimate meat pizza!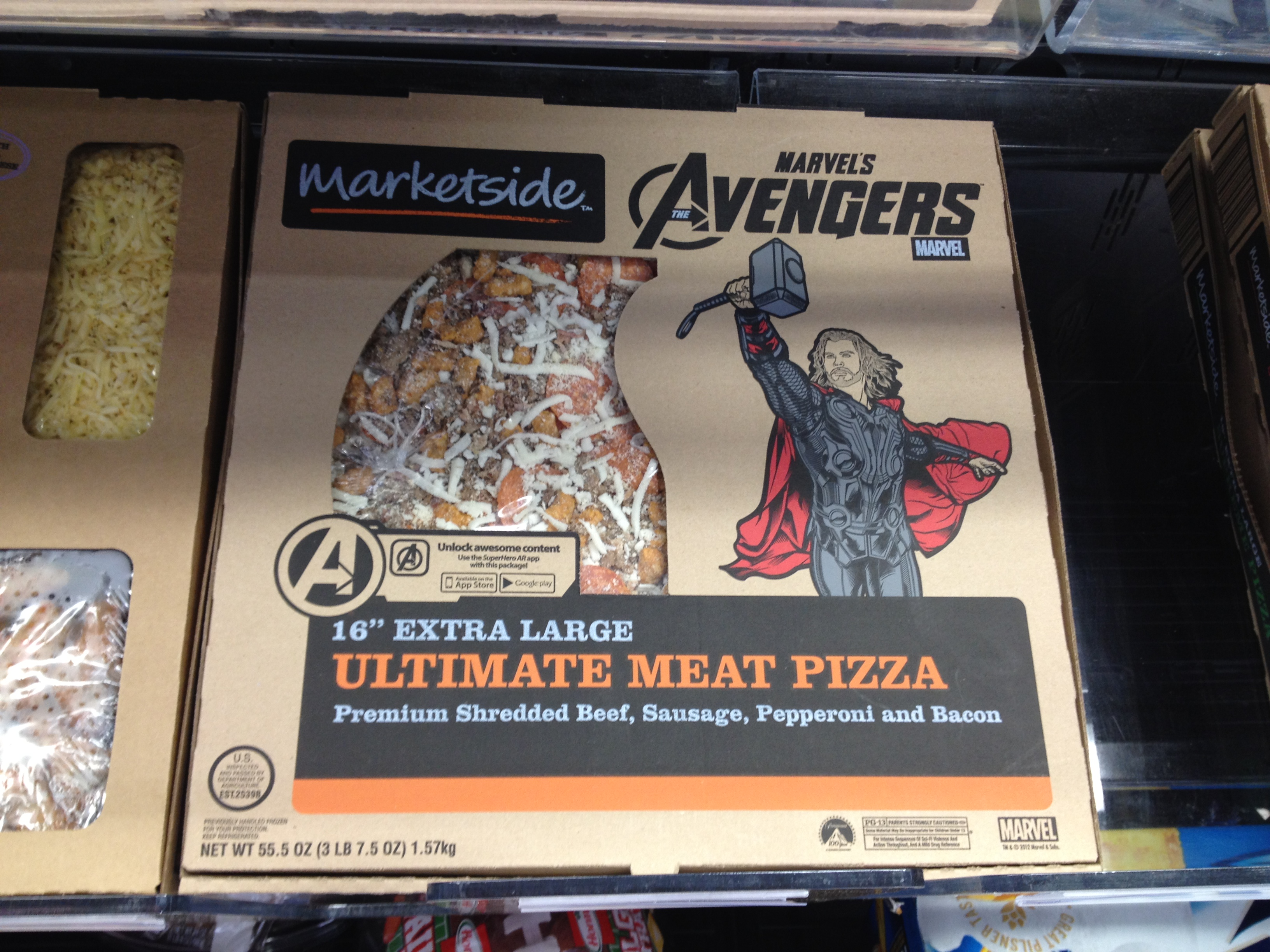 I personally couldn't WAIT to get these pizzas home – I knew there was something really cool that would happen with my new app!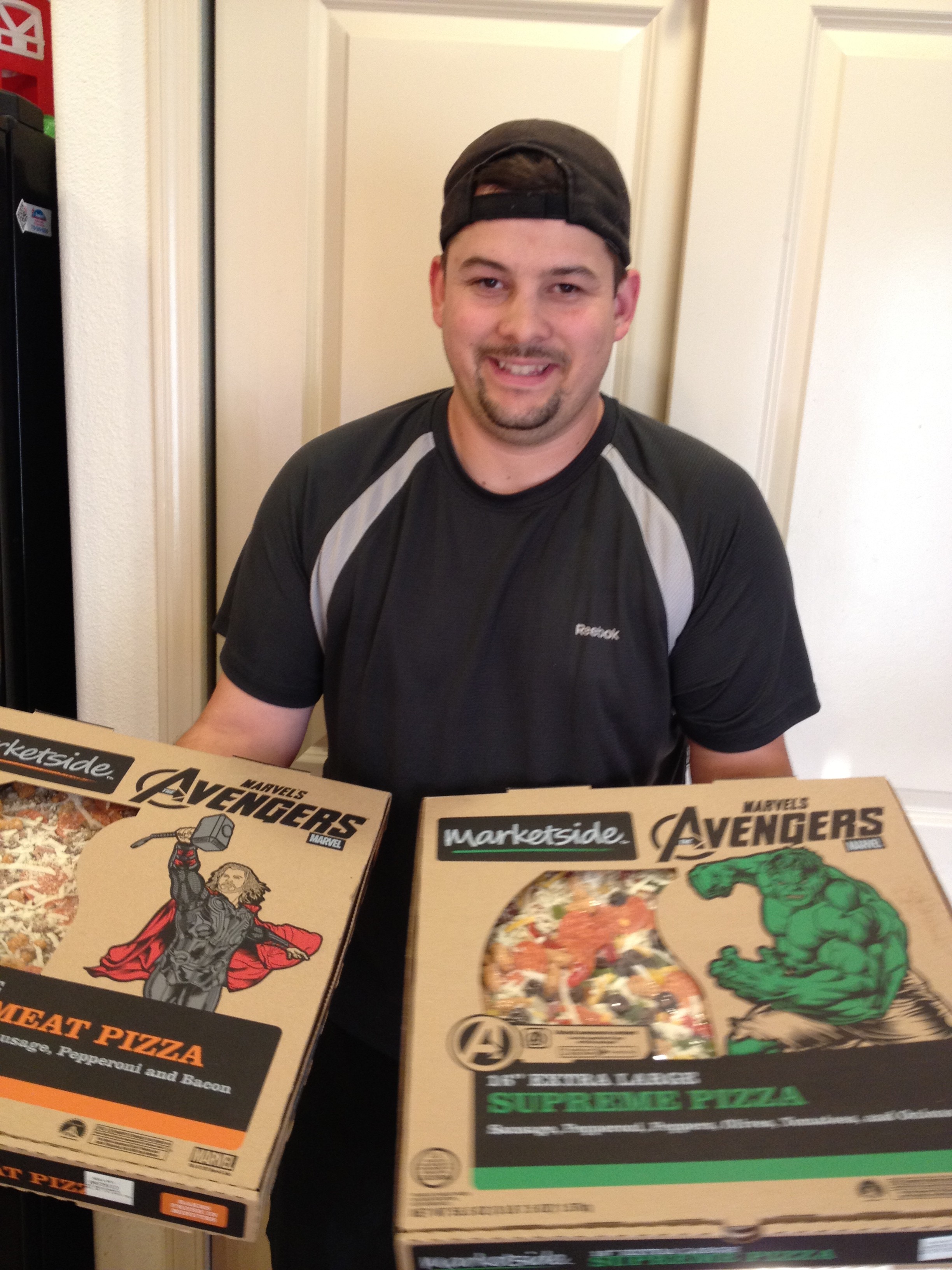 And I KNEW that my husband would think it was just awesome! He had NO idea what he was about to experience in our kitchen! And the kids too!
They didn't know was that these pizza boxes were about to come to life! This brings me to the "Product Activation" option on the Augmented Reality application! With either a Marketside pizza box or the Avengers DVD/Blu Ray, you can experience the Avengers in a unique way! I gathered my kids around and pointed my phone at the pizza box to activate a 3D experience that went beyond my expectations! There in front of us was a city with all four Avengers in it! And because it was through my camera lens, my kitchen (and my husband) was in the background! I think this 3d experience with an ordinary cardboard box made our pizza taste better! (Yes…my husband thought it would be awesome to get in the background of my 3D experience…)
 As much as my youngest son thought the app was cool – he really just wanted to eat the pizza!!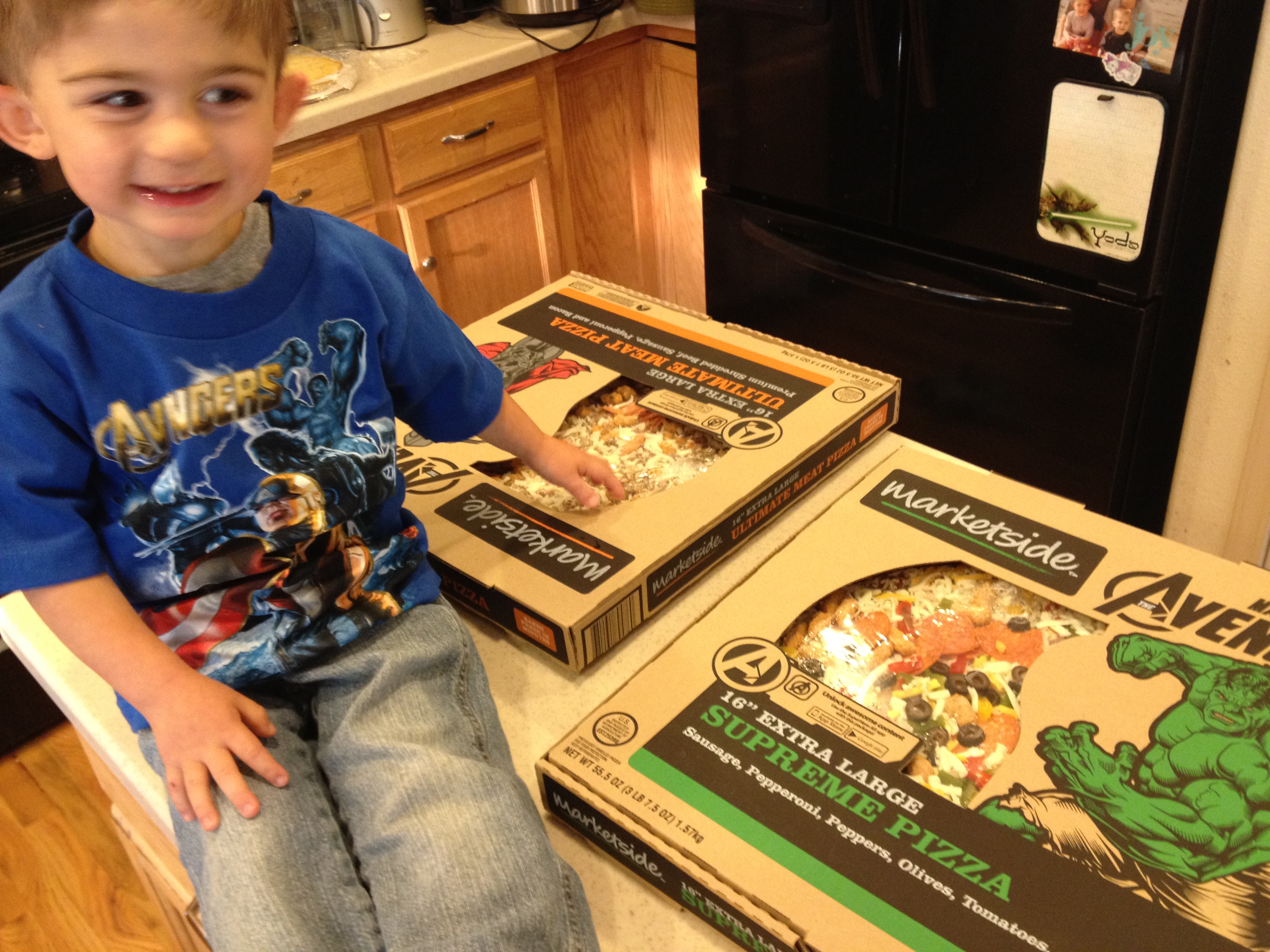 My family had so much fun with our special family night! Pizza is always the best and the kids are just psyched that the Avenger's is coming out!!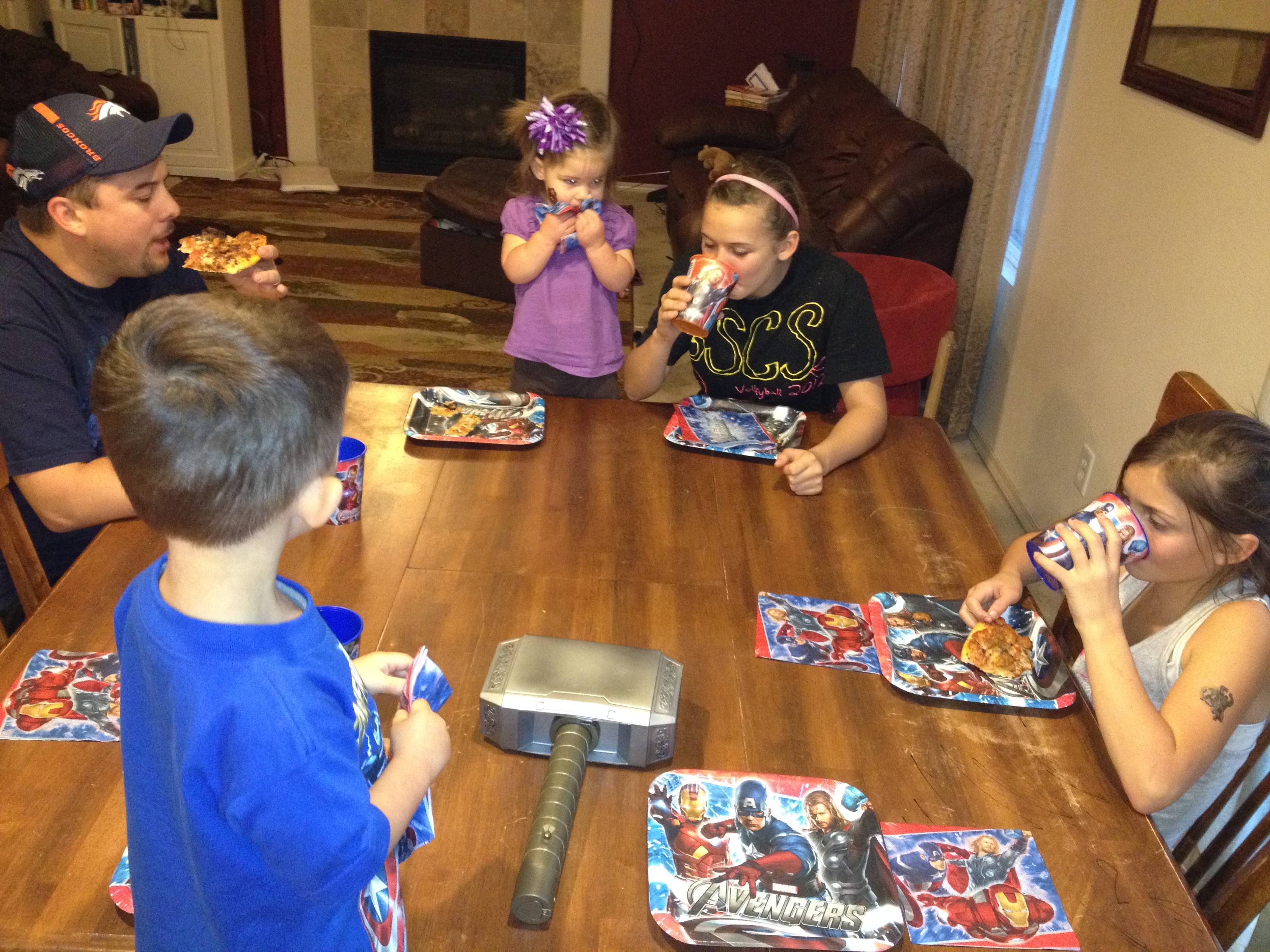 After we all enjoyed our delicious pizza dinner the kids took rounds seeing who would win in our living room – Captain America or Thor!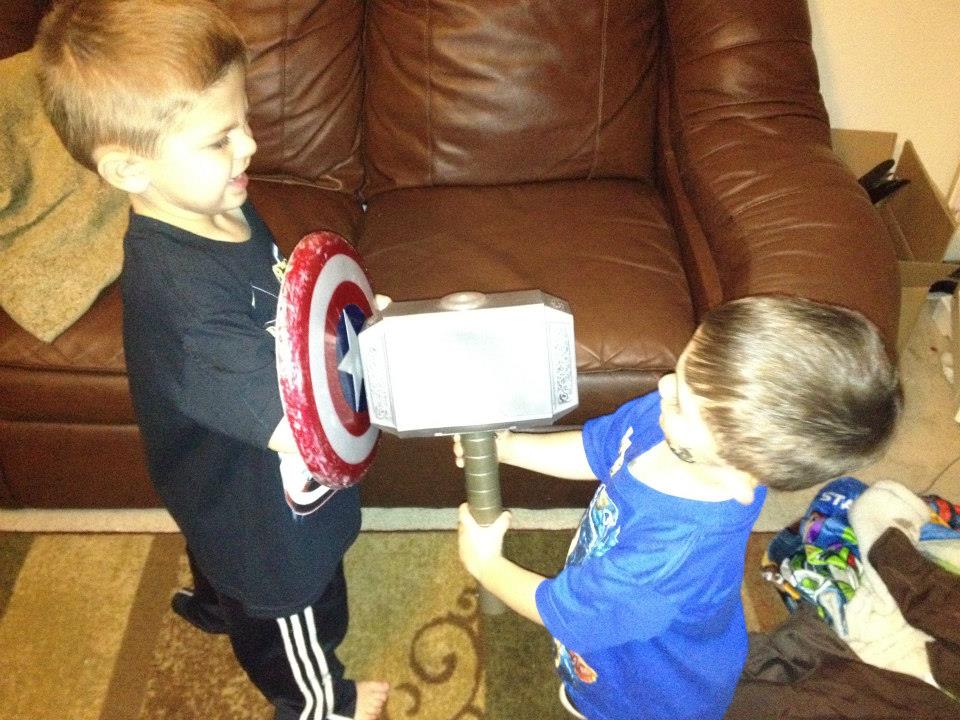 So what do you get when you combine the Avengers, a fun and totally new and inventive app,  a pretty awesome family and a lot of pizza and fun? Well…let's just say that for the night, I'm pretty sure I was the SUPERHERO.
Check out all the other Avenger's gear I found at Walmart! Follow Marvel on Facebook and Twitter for all the latest and greatest updates on the Avengers!
Disclosure: I am a member of the Collective Bias™ Social Fabric® Community.  This content has been compensated as part of a social shopper insights study for Collective Bias™ and Marvel.  #MarvelAvengersWMT #CBias #Social Fabric