13 Thanksgiving Books for Children for Less than $5 Each!
This post may contain affiliate links, view our disclosure policy for details.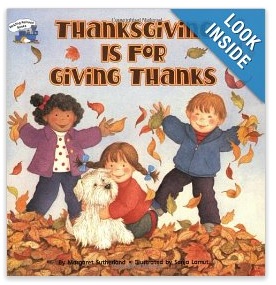 Are you looking for books about Thanksgiving for children? Check out this list below! You'll find 14 books for children about Thanksgiving that are less than $5 each! Hurry and order so that you'll have them in time to read before Thanksgiving! Note: The prices can change at any time, so order soon!
Thanksgiving Is for Giving Thanks $3.59
The Night Before Thanksgiving $3.59
The Pilgrims' First Thanksgiving $4.89
10 Fat Turkeys $3.59
T is for Turkey: A True Thanksgiving Story $4.99
It's Thanksgiving! $3.59
Just So Thankful (Little Critter) $3.59
The Very First Americans $3.59
The Berenstain Bears Give Thanks $3.59
The Berenstain Bears Thanksgiving Blessings $4.49
Thanksgiving on Thursday (Magic Tree House #27) $4.99
First Thanksgiving Sticker Activity Book  $1.50
Thanksgiving Thief (Nancy Drew and the Clue Crew) $4.49 (temp. out of stock, but you can still order)