Saving Money in the Classroom and on Educational Products at Home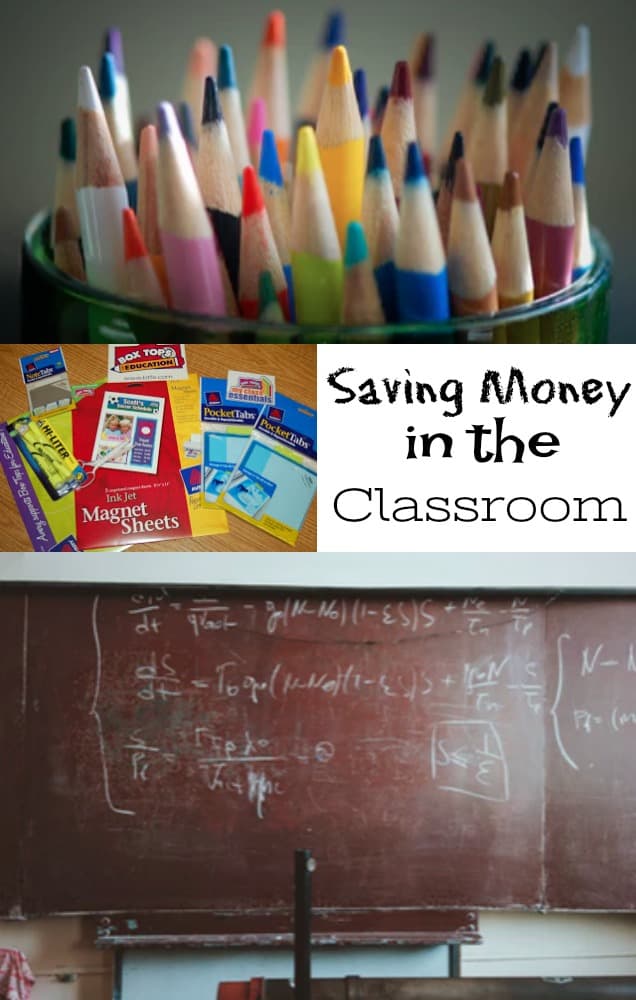 I am a mom to 3, the wife of a teacher, and one VERY busy person! I'll take any tips on saving money in the classroom! We have learned how to stretch our budget not only at home, but when purchasing items for the classroom! After all, sometimes to survive a teacher's salary you have to learn to live without!  It seems that every year the budgets for schools get smaller and smaller, and I know in some schools that supply budgets are even completely gone! This year our school "ran out" of money for agendas and supplies even before the FIRST day of school and told the teachers that they had to provide supplies out of their own pockets! Here are a few ways that we have learned to stretch our budget and find greats deals for classroom and educational materials.
Tips on Saving Money in the Classroom
1. STOCK UP when it's cheap! I'm sure most of you, if not all of you, already do this! During the back to school sales (and the clearance after the back to school sales!) every year our family goes nuts on stocking up on school supplies. We come with bags and bags of items from just one store. Learn your stores policies. Most stores will expand their limits with teacher ID's. We were able to come home with 25 items for $.01 almost every week. After the school year began we found all sorts of supplies for as little as $.05 each! Even during the year we have found unbelievable steals on printer paper, labels, and other supplies that then to be pricier.
2. Teachers – Reach out to your community! A huge benefit our school has received in the past year is simply by taking the time to visit local businesses and request donations. Many of the businesses have said they wished more schools did that! Don't feel like you're limited just by restaurants either! We have received donations from grocery stores, chiropractor offices (even free massages!), and many other types of businesses. In fact, we were at a Title 1 school and could not afford special speakers. But after contacting several local authors and even local amusement parks and zoos we were granted free presentations with live animals and with local authors! You never know until you ask! A little bit of extra time that you spend in your community can benefit your school or class a lot!
3. Watch deals online. Find a few educational bloggers that you love (or hang around here!)  and watch their sites for great prices on classroom and educational materials! We have received for FREE fraction math games, kits from NASA, healthy living kits with pedometers, bookmarks, posters, pencils, educational toys and all sorts of other free classroom and educational materials. You can also find great deals (usually 50% off or better) by watching daily deal sites as well!
4. Ask your students and friends! If you have a project coming up that you need supplies for ask your students and friends! They can bring in anything from empty drink containers to scrap pieces of fabric! Make sure you ask in plenty of time for them to actually remember to bring you their materials!
5. Scour thrift stores and yard sales! We have found all sorts of fantastic items at thrift stores and yard sales for just a fraction of the cost! Flea markets are also great for finding books in bulk at a cheaper price! Let them know you're a teacher and many times they will offer you an even better price! I have found top notch educational toys and kits for steals because not everyone wants a "learning" toy.
6. Borrow, Borrow, Borrow!! Networking is a beautiful thing – even if it is just between teachers in your school or in your family. If you are looking for something that you don't wait to spend the money on ask around! Post it on Facebook and call up a few friends! Whether it's teachers, friends, or family – you never know what you will find!
7. Watch your stores after the holidays! We have found ALL sorts of goodies for prize boxes, carnivals, and special giveaways. As well as packs of supplies to use during the year just because they were holiday-themed or related. I have found especially after Valentine's day stores mark anything heart shaped down to sometimes pennies per pack. We have scored little soaps, mirrors, notepads, frisbees, stamps, bubbles and more! Even candies after Halloween might be clearance although they don't have Halloween designs on them so keep an eye out for those too!
8. Parents – swap educational toys with your friends! This has been a HUGE relief in the past for us. We all have toys that were great when we bought them but the kids get bored quickly and they end up in the back of a closet somewhere. Swap toys with someone else for a while and not only will your child have something new to play with for a while but you will have saved a lot of money doing so!
There are SO many ways to stretch your budget for educational materials if you get creative and use the resources you already have! Recycle as much as you can, borrow what you don't have and search for deals on what you need!