Manual & Electric Pencil Sharpener Sale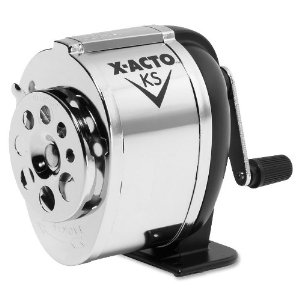 X-Acto Teacher Pro Electric Pencil Sharpener with SmartStop, Black (1675)
 is on a GREAT sale!! This is our favorite electric sharpener we have found and is long-lasting!!
X-Acto Model KS Table- or Wall-Mount Pencil Sharpener (1031)
 is on sale!
X-Acto 16750 Battery-Powered Pencil Sharpener, Black
X-Acto School Pro Heavy-Duty Electric Sharpener (1670)
 is still on sale!
X-ACTO ProX Electric Pencil Sharpener with SmartStop, Gray and Black (1612)
 is marked down!! Has anyone ever used one of these??