How to Save Money with the Target Cartwheel App
This post may contain affiliate links, view our disclosure policy for details.
Disclosure: I participated in an Influencer Activation on behalf of Influence Central for Johnson & Johnson andTarget. I received a gift card to facilitate my review as well as a promotional item to thank me for my participation.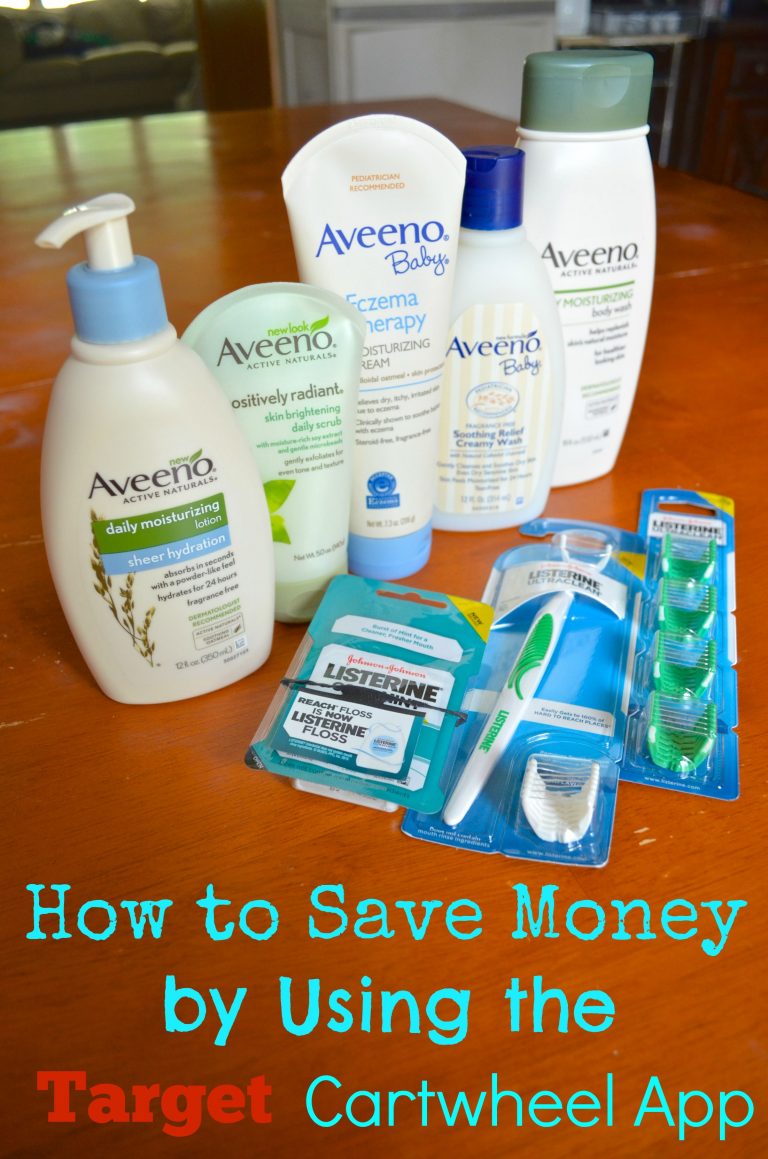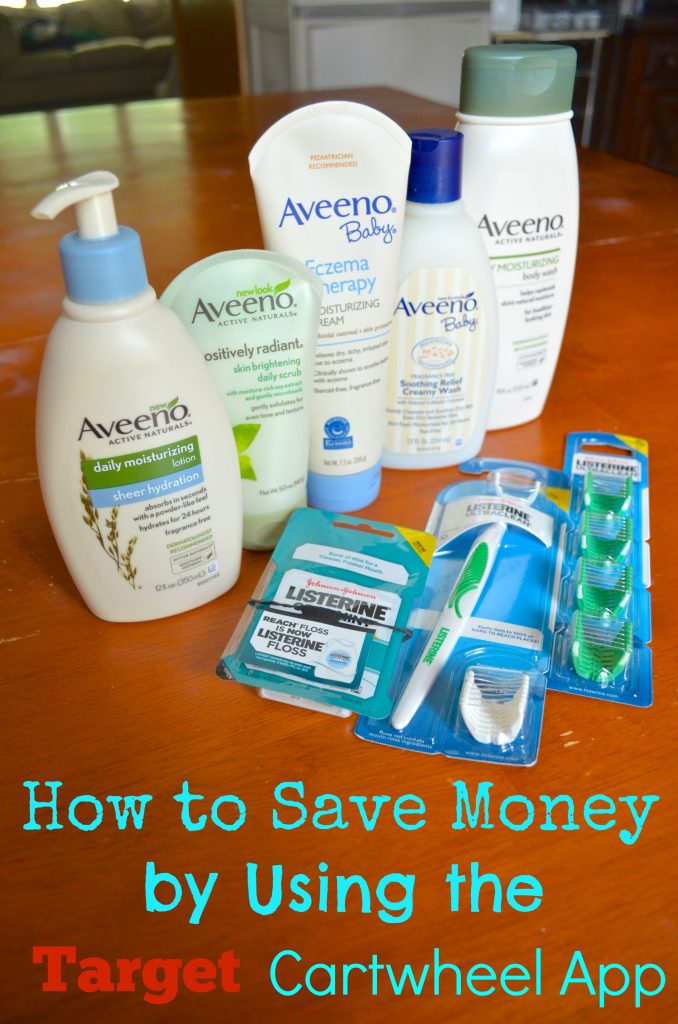 Target has always been one of my most favorite places to shop because I love their style and their clearance prices simply just can't be beat anywhere, and of course now they have the Target Cartwheel App which means even MORE savings! My sister actually introduced me to Target's Cartwheel App a few years ago so I wanted to put together a post for those of you who haven't used it to show how simple it is! The app features new sales every week (including their cafe!) and you just "add" the sale to your app and have the cashier scan your barcode at checkout to automatically apply the savings to your order! You can use the savings as many times as you want until the sale expires so if you forgot something you can always go back!
Download Target's Cartwheel app in either the Google Play store or the Apple Store here first. You'll also need to sign up for a (free) account to use your app. When you open the app you'll be able to browse and search for the current deals. Each deal will show the percent off right next to it. If you're shopping for something specific, like for LISTERINE® COOL MINT™ Dental Floss we'll say, you can of course browse through ALL the sales or you just touch the magnifying glass and type in LISTERINE®.  I bought it for my boys who are OBSESSED with flossing because it removes up to 61% more plaque than with Glide® Mint Floss and trust me when I say my boys need all the help they can get! Brushing just simply isn't enough.
You'll then see all of the products for sale under that category or brand name in your app.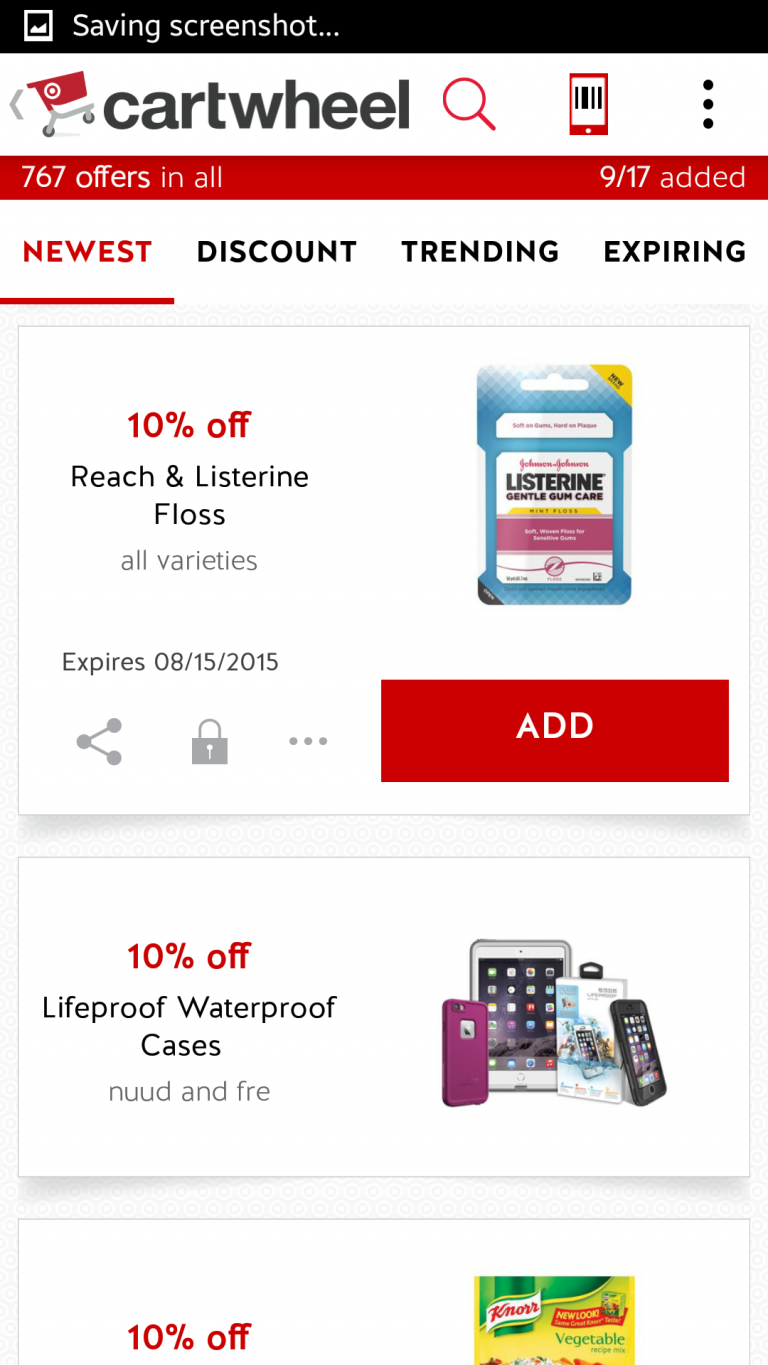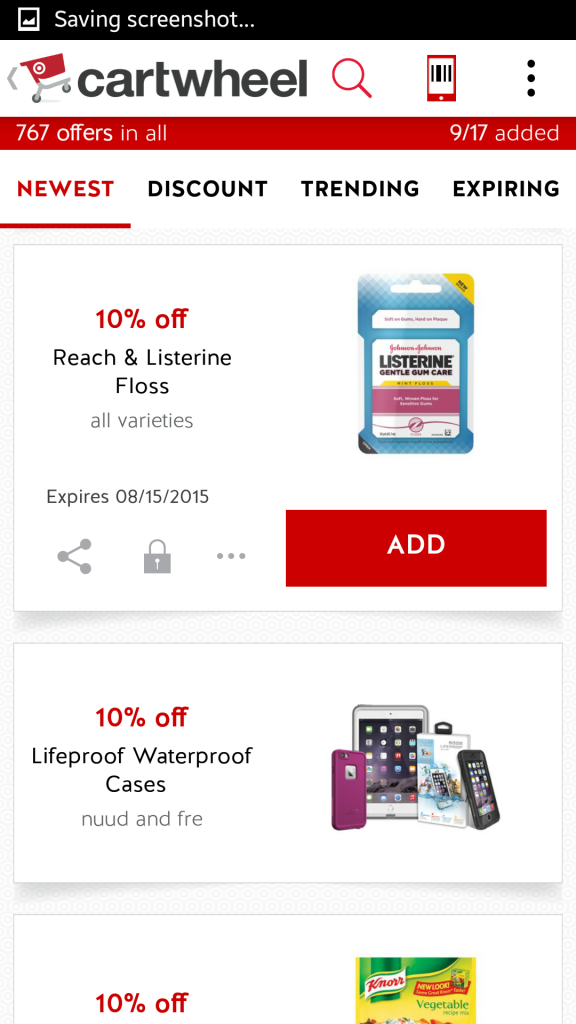 Once you have found the product(s) you want to add to Target's Cartwheel app simply touch the sale box and touch "ADD". It will automatically save that sale for you! I LOVE browsing the app before I head to the store because I always add in more deals than I'm planning on shopping for and oftentimes I find even BETTER sales that I actually need to save money on like I did this time with baby food. My little girl is going through baby finger food like crazy and using the Target Cartwheel app discounts I was able to save a lot on her baby food! (Let's just say I stocked up for a while!)
Among other things I was shopping for I also needing some routine household products for my kids. Some LISTERINE® COOL MINT™ Dental Floss, some Aveeno® Baby Wash and Eczema cream for my sensitive little girl, baby formula, and school supplies were all on my list. I also decided to try AVEENO® Daily Moisturizing Sheer Hydration Lotion since it is formulated with ACTIVE NATURALS® Colloidal Oatmeal and my poor kids hands crack SO bad in the winters here because of our vicious wind. Their Body Wash also has that so I bought both. I also sprung for some Aveeno® Positively Radiant Daily Scrub because to be honest, I just needed something for me! And since I was at Target I OF COURSE had to hit up the clearance aisles and scored some CHEAP toys for my kids for Christmas already! Between that and the Target Cartwheel App I really saved a bundle during my shopping trip.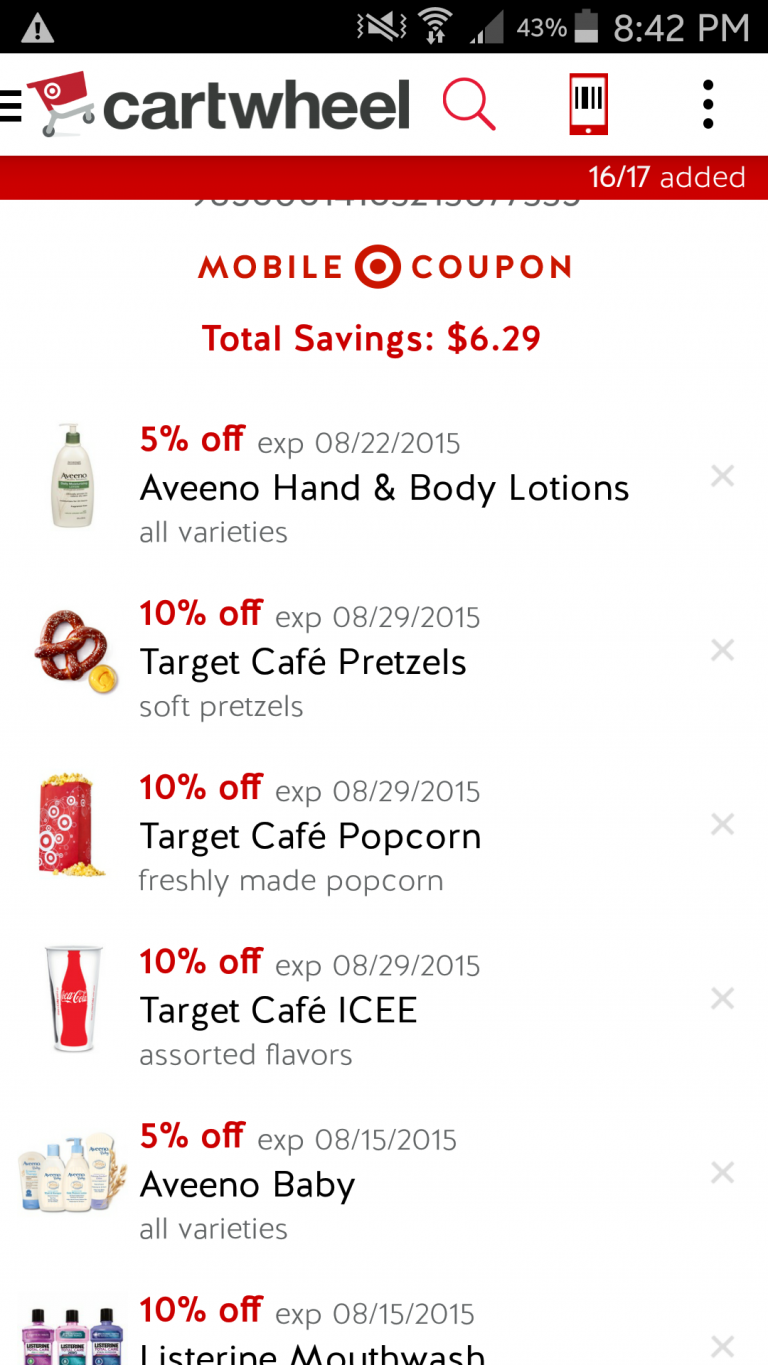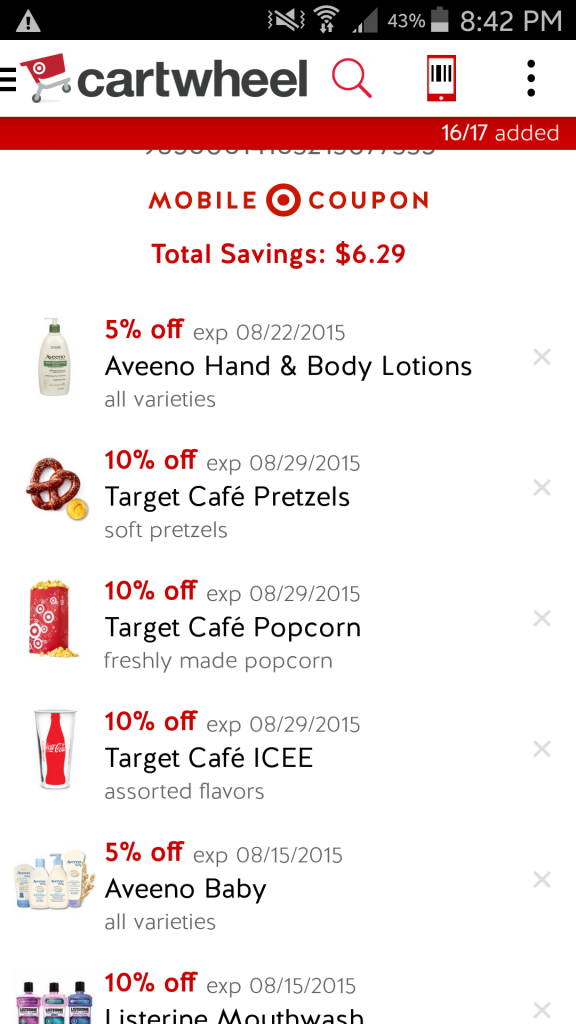 In your Target Cartwheel app you can see all of the discount sales you put in your "cart" and added into the app and it will display a simple barcode for your cashier to scan at checkout. Just let your cashier know you're using the Target Cartwheel app and show them the barcode – they'll know what to do! Any discounts of items you purchased will automatically be taken off of your bill! It's as easy as that! You can see how much you saved in your app and on your receipt! Remember every Sunday NEW deals are added!
THIS WEEK from now through 8/15/15 some of the sales you'll find are:
Desitin, 5% off
Johnsons Baby, 5% off
Aveeno Baby, 5% off
Neutrogena Cosmetics, 10% off
Neutrogena FSC, 5% off
Listerine Floss, 10% off
Hand & Body Lotion- Neutrogena, 5% off
Hand & Body Lotion- Aveeno, 5% off
Sun- Neutrogena & Aveeno, 5% off
During this time of year as I'm stocking up on school supplies I also like stocking up on oral care and health care supplies since I'm already in the store. Our school schedule gets pretty insane in the beginning of the school year and the last thing I need to do it run out of basic supplies like floss and lotion! Almost everything I bought above I saved money on with the Target Cartwheel app or it was on clearance. BELOW you can enter to win a $100 Target e-gift card!!
Back to School with J&J at Target