How to Get Tickets to Darci Lynne Tour
This post may contain affiliate links, view our disclosure policy for details.
***UPDATE** –
Due to the current global health crisis as well as travel and performance restrictions, the following dates on Darci Lynne Farmer's Fresh Out of the Box Tour have been postponed with rescheduled dates to be announced shortly:
March 14, 2020 Davenport, IA
March 15, 2020 Rockford, IL
March 28, 2020 Birmingham, AL
March 29, 2020 Chattanooga, TN
This very difficult decision was made following the recommendations of government authorities including the Center for Disease Control to reduce the spread of the coronavirus disease 2019 (COVID-19). All tickets for the original performances will be honored, so patrons are encouraged to hold on to their tickets until new dates are announced. Those not able to attend the new show dates are eligible for refunds at point of purchase. For more information, please visit darcilynne.com.
---
**STAY TUNED as I'll be updating this post with photos from the upcoming Darci Lynne tour! US Family Guide will be sending my family tickets so we can share our experience with you!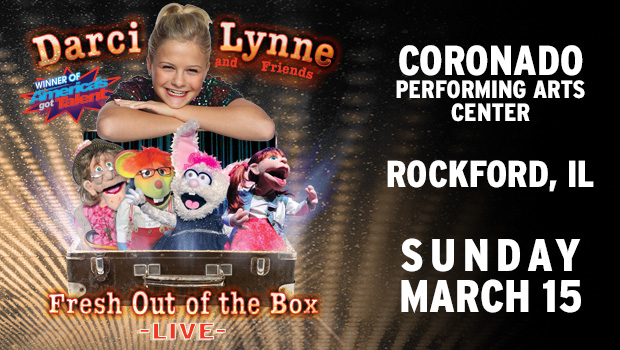 *WAVES to Darci Lynne!!!!*
If there was ever a fantastic memory with my entire family rooting for a talented kid to do well it was the night that we watched Darci Lynne compete in the finals of America's Got Talent in 2017. Even my (at the time) 3 year old loved her puppets!
If you don't know Darci Lynne she's an AMAZING singer AND ventriloquist who was also the youngest contestant to ever win NBC's America's Got Talent, a show my family watches together every season. Her performance got over 67M views on AGT's YouTube and the most votes for a final performance in the history of the show!
As you can imagine ventriloquism isn't (or wasn't before Darci Lynne) a popular hobby for kids, but that didn't stop her from not only learning this self-taught skill but mastering it and sharing it with the world. Darci's story is one that not only brings us together to support an amazing person but also an encouragement to kids all over the world to do what they love doing regardless of what anyone else says!
Darci Lynne in Illinois:
Don't miss Darci Lynne & Friends: Fresh Out of The Box Tour at Coronado Events Center in Rockford, IL on Sunday, March 15, 2020 at 3 PM! That's THIS WEEK! In 2018 she kicked off her national tour selling out her first headlining family friendly show in just six minutes, continually adding shows to meet the overwhelming demand. On the heels of a record-breaking 2019, the gifted Singer/Ventriloquist Darci Lynne has kicked off her 2020 "Fresh Out of The Box" National Tour where she is sharing her passion for performance and bringing her enchanting show from New York to Nevada!
Where is Darcy Lynne's Tour Next?:
PHEW Darci Lynne is a BUSY girl! You can check out all of her upcoming tours here! Everywhere from Pennsylvania to California and in between!
How to Buy Tickets to Darci Lynne Tours:
You can see Darci Lynne on tour by purchasing tickets directly through TicketMaster here!
Deals on Ticketmaster Tickets to see Darci Lynne:
RIGHT NOW when you buy 3 tickets to see Darci Lynne you can get your 4th ticket free! USE PROMO CODE: 4PACK at checkout!
Darci Lynne on TikTok:
Darci Lynne's popularity on stage and TV has expanded onto the social media scene. Her Tik Tok profile soared from 7K followers on Jan. 16th to an astounding 1M followers and 8.7M total likes in less than 2 weeks. Darci Lynne's Tik Tok profile can be seen at https://vm.tiktok.com/4KMdEd/
---
More about Darci Lynne:
Growing up in Oklahoma, Darci has always been close to her family and relies on their support and encouragement. In her younger years, Darci participated in talent-based pageants to overcome her shyness. She was soon introduced to the art of ventriloquism and decided to try it out for herself. Her hard work, grit and discipline developed from her early days of gymnastics where she practiced thirty hours a week. After only having her first puppet for two weeks, Darci began performing in talent shows in her home state and beyond. She was determined to audition for her first talent show, ultimately leading her to audition for the biggest talent show on television.
The stage is now a platform where Darci can open up and display her incredible talents for the world to see. Her polished, impeccable skill as a ventriloquist at such a young age is jaw dropping and sure to inspire the next generation to keep the craft alive, but when she sings, her voice leaves her audiences breathless. Darci has performed at the Grand Ole Opry, opened for Fergie at Caesar's Palace on New Year's Eve, and starred in her own NBC Christmas Special.