In the beginning of my son's kindergarten school year he came home so proud that he had received little notes and photos from all of his friends at school. To him it represented the friends he had, and he came home and taped them all over my back door where they stayed for months until we finally took them down. This Valentine's Day he wanted to give his friends at school something special too, especially since I will be in Mexico for Valentine's Day and I know the boys will be missing me! So we sat down together & looked at over 50 different style Valentine's Cards on Shutterfly which he just loved since he could add his picture onto the cards. (There are of course varieties where you do not have to add your child's photo.) You can choose from sizes 6×8, 5×7, 4×8, 5×5, 4×5.  And they have several that are specifically for classrooms!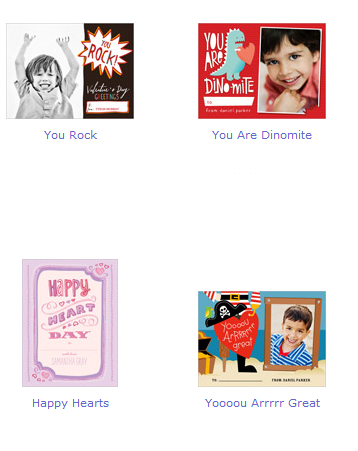 And SH! Don't tell my husband but I'm getting him a Desktop Plaque for Valentine's Day! I thought about the Photo Water Bottles but I think that I would like that more than he would! After all it's the least I could do for him since I won't even be here on Valentine's! We'll be celebrating our special day before I leave for my trip. I like gifts like these because they last longer than flowers or candy and I can smile all year long when I see these precious memories!
GIVEAWAY
In celebration of Valentine's Day Shutterfly has offered the chance for one of my readers to in win their own special photo prize! One reader will receive:
 To enter just fill out the Rafflecopter form below! (If you don't see the form just click where it says "a Rafflecopter giveaway". To keep up with Shutterfly and their new products you can find them on Facebook and Twitter!
Disclosure: I will receive the same prize as the winner. All opinions are my own. Giveaway is open to US only and will end on January 31, 2013 at 12:01 am est. Winner will have 48 hours to claim prize before a new winner is chosen.
Share the post "Shutterfly Valentine Day Cards & Gifts #GIVEAWAY"