Anyone that knows me knows I am NOT a diet girl! In fact I've been having to eat a low fat diet lately due to several gallbladder attacks and I want nothing more than to go into town and pig out on a gigantic pizza! :) Ok – maybe not completely pig out……BUT being forced to eat healthier has helped to jump start my desire for a healthier family this year anyway! It's been something I've been working on for the past 4 years with baby steps and I'm amazed to see how far we've come! My goal isn't a specific amount of weight to lose or an extreme workout routine, my GOAL is to make healthier choices – every time. Always choosing the healthier option – you will just keep choosing healthier and healthier.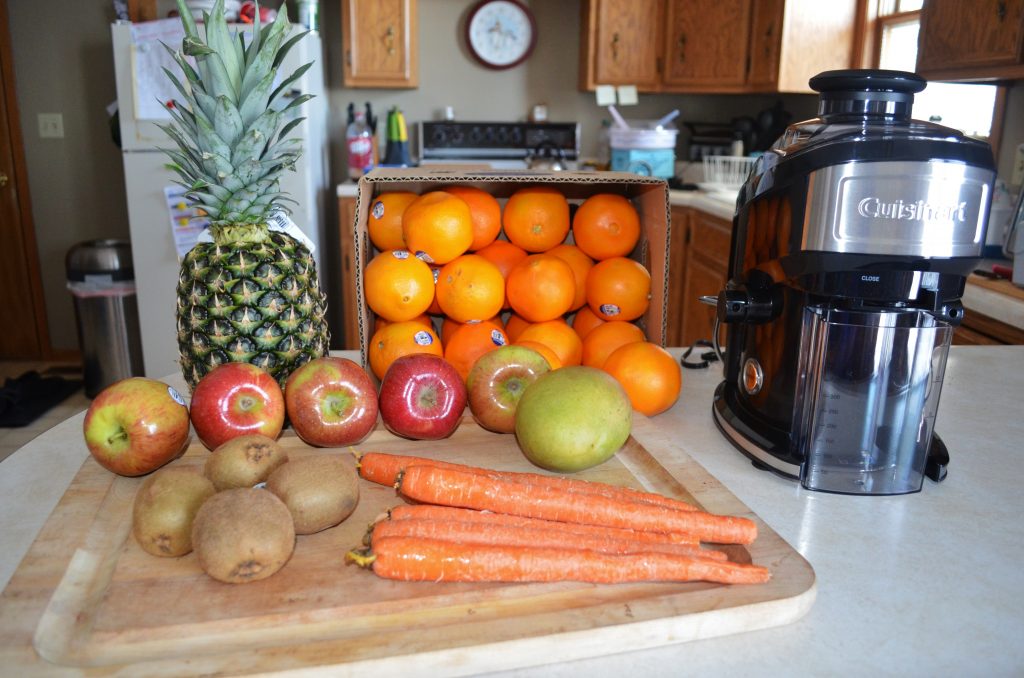 As part of the #MillionSteps Challenge that I am participating with our Best Buy Ambassador Blogging Board I've also been using my FitBit wireless activity tracker, an awesome FitBit Aria Wi-Fi Smart scale, and our new Cuisinart Compact Juice Extractor. If using all of that can't help keep you on track – you're in trouble! So this month our ambassador team collectively (there are 9 of us) are working together to take 1 MILLIONS steps! (follow our progress on Twitter at #MillionSteps) My family and I have also been creating our own fresh fruit & veggie juices as well! Look at all of that fresh fruit (and veggie!). MMMM! After the holidays I found huge holiday-themed boxes of navel oranges for $6 a box – so I bought two. Worried that the oranges would go bad before I could actually use them all I juiced them all and put several containers of juice in the freezer. It's a GREAT way to save some money too! Buying fruits and veggies that are clearanced and then juicing them to freeze for later can be a great way to take advantage of sales AND keeping your fruits/veggies longer after you've picked them from the farm!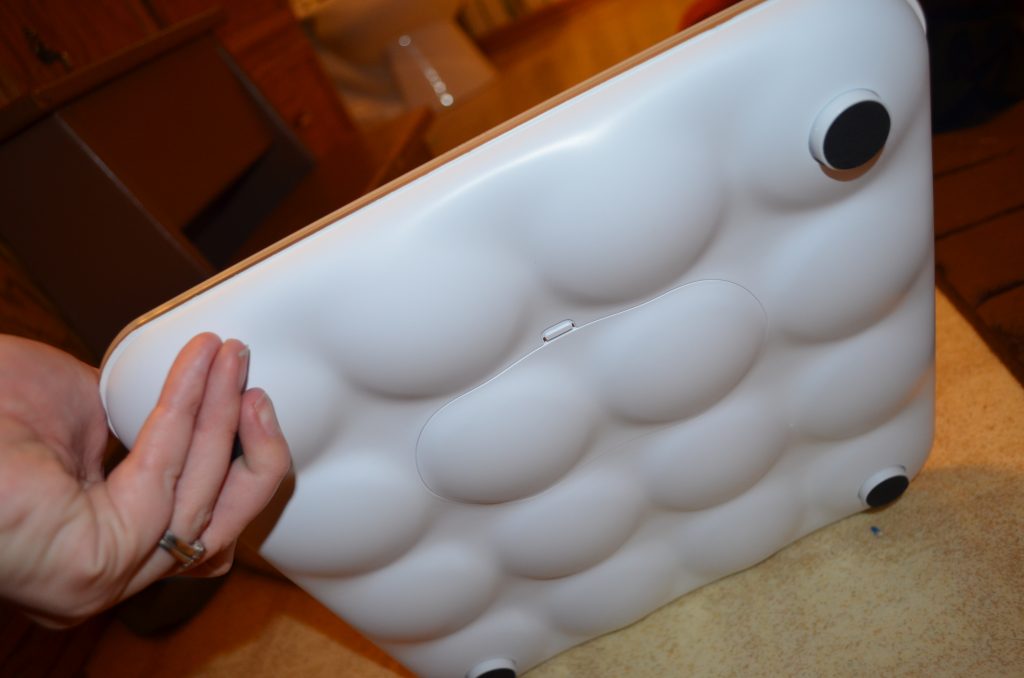 Check out our Aria Wi-Fi Smart Scale! It's just absolutely awesome and I LOVE the bottom of it! It's the small things you know! :) Every morning before breakfast I step on the scale and the scale which is synced with my FitBit account automatically records my weight on my FitBit account! My FitBit wireless tracker keeps me responsible for my steps. I am constantly looking down at it and purposefully going down that extra flight of stairs, or walking to the next room to put something away. It's been a GREAT boost for me in encouraging me to keep walking even longer.
This way I can't LOSE or throw out my weight achievements! And it keeps me more accountable to see it in RED on my screen!! But the great thing is that I can compare it from month to month and see if I am meeting my goals.
And just for a little fun – this is what we do with the scraps of fruit & veggies once the juice extractor is done with them……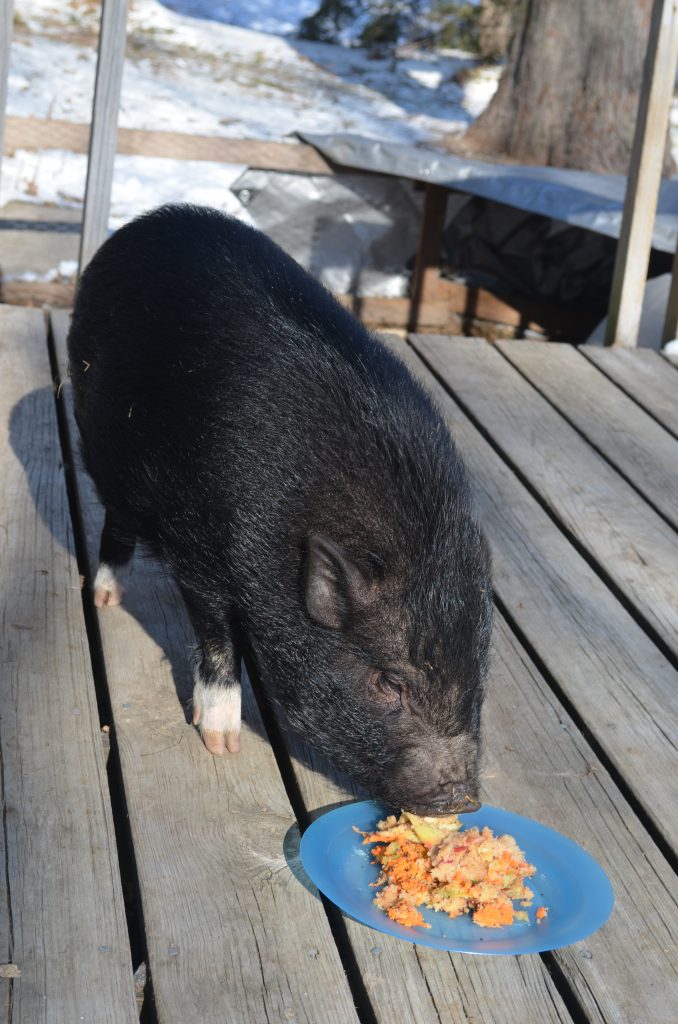 Our sweet pot belly pig Ms. Ellie Mae gets a special treat too!! Seriously though – if you've never juiced before and are considering it, here are a few tips for you:
Don't go extreme if you're not ready for it!
Unless you're desperate for a massive change start slow. Fruit juices and blended veggie juices are typically the easiest to drink for most of us! Carrots are VERY easy to throw in fruit juices and don't change the flavor much. Start by adding in just a few leafy greens too!
It's not a competition!
Juicing is very easy to get into but there's no race, no competition. It's OK not to have tons of swampy green veggie juice. Any juicing is healthier than not juicing – just don't drink too much fruit juice all the time because of the extra sugars!!
You don't have to drink the juice!
Sounds weird right? Remember you don't have to actually drink the juice! You can juice veggies for cooking in soup, cooking meat, and even adding small amounts to bread!
Here are two 20% OFF coupons for you! Just click the image below!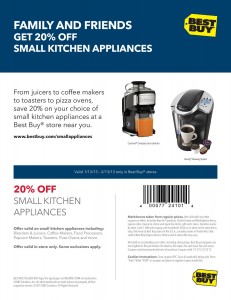 (effective 1/13/13-2/13/13)
WHAT ARE YOU DOING in 2013 to Change your Lifestyle for the Heathier?
Disclosure: I received compensation and the above products as part of the Best Buy Blogging Ambassador Board. All opinions are my own.
Share the post "Changing Your Lifestyle for the Healthy #MillionSteps"